Count Check is a vampyre and account security expert located in the Stronghold of Security.
He now checks the security of your account, awarding the player with a small XP lamp if the RuneScape Authenticator and a Bank PIN has been set up; if not, Count Check will give the player advice on how to set those security measures.
The player may ask Count Check to count for them, prompting him to recite four tips for account security.
2016 event
Edit
During Customer Support Week 2016 (3 October through 9 October) he gave players a special clue scroll each day. Completing each scroll provided 2 rewards, one which everyone can open and one which can only be opened if you have Authenticator and a bank PIN set.
During Customer Support Week he also hosted The Drop: Customer Support Edition. Players were able to take part in The Drop every 30 mins. If the player answered all 12 of the questions correctly they obtained large XP lamps, unlocked the title [Name] the Knowledgeable, and were entered into a prize raffle.
He also had a minor role in the 2016 Thanksgiving event. When Turkey Tomb was spied, Count Check believed the player was speaking to him, but was rudely informed that they were after the turkey.
2017 event
Edit
During Customer Support Week 2017 (15 May to 22 May) he appeared north of the Lumbridge Crater, and only checked to see if players had secure accounts, giving out yet another small XP lamp for having both the Authenticator and a bank PIN set.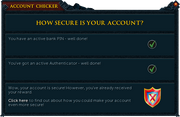 Count Check's name is likely a play on "Account check".
When asked to count, he says "free" instead of "three" to indicate that the authenticator is free to set up.
Count Check is likely a reference to Count von Count, one of the Muppet characters on Sesame Street. They both have a vampire appearance, and count through numbers in a similar style.
Count Check breaks the fourth wall by mentioning real life things such as email, accounts and passwords in dialogue.
Count Check remembering the player's rude behaviour during the 2016 Thanksgiving event is a reference to various Telltale Games franchises where players' decisions generate messages like 'X will remember that'.
Attackable
Personalities
Former vampyres
Discontinued
† denotes that a character is deceased
Ad blocker interference detected!
Wikia is a free-to-use site that makes money from advertising. We have a modified experience for viewers using ad blockers

Wikia is not accessible if you've made further modifications. Remove the custom ad blocker rule(s) and the page will load as expected.