Corrupt dragon helm
Discuss

6
22,529pages
on this wiki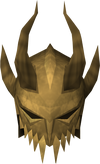 The Corrupt dragon helm was released on 15 October 2008 along with the PvP worlds. It is the strongest medium helm available to non-members, but it will crumble to dust after being worn for 30 minutes. It is for this reason that many players choose to cast the High Alchemy spell on the corrupt dragon armour pieces just before they turn to dust to recover some of the cost from purchasing them. The Corrupt dragon helm requires 60 Defence to wear.
Players can obtain this item either by trading with another player, or receiving it as a very rare drop from killing Revenants and the Chaos Elemental.
Warning: Once you wear this item for longer than a few seconds, it will have the word (deg) added to its name and it becomes untradeable. Using this item in combat adds the (deg) to its name almost instantly, also rendering it untradeable.
Combat Stats

| Class | Slot |
| --- | --- |
| Melee | |

Weapons
Main
Off
Damage
-
-
Accuracy
-
-
Type
-
-
Attributes
Armour rating

214

Life bonus

+696

Prayer bonus

0

Critical bonuses

0%

0%

0%

Compare item

A player wearing a corrupt dragon helm

[view] • [talk]
Dropping monsters
Edit
On 10 November 2008 the price of the corrupt dragon helm shot up by over 300%, over one million higher than the previous day. It exactly matched the price of the corrupt dragon chainbody. This was corrected by Jagex the next day and the price was set to its former value.
Interestingly, despite its name and stats, Corrupt dragon helm looks much more similar to a rusted Dragon full helm missing the chinpiece than the Dragon helm. This can be seen in the teeth-like pieces, and the 4 horns instead of 2.
Weapons

| | |
| --- | --- |
| Melee | Hatchet • Pickaxe • Battleaxe • Claw • Dagger • Halberd • Mace • Longsword • Scimitar • Spear • Two-handed sword |
| Ranged | Arrows • Arrowheads • Darts • Dart tips • Crossbow • Off-hand crossbow • 2h crossbow |
| Off-hand | Battleaxe • Claw • Dagger • Mace • Longsword • Scimitar • Defender |

Armour

| | |
| --- | --- |
| Sets | Plate armour set (lg) • Plate armour set (sk) • Chain armour set (lg) • Chain armour set (sk) |
| Set pieces | Boots(dragonbone) • Gauntlets • Helm • Full helm (sp) (or) (dragonbone) • Chainbody • Platebody (sp) (or) (dragonbone) • Platelegs (sp) (or) (dragonbone) • Plateskirt (sp) (or) (dragonbone) • Square shield (sp) (or) • Kiteshield (sp) (or) |

Corrupt dragon

| | |
| --- | --- |
| Armour | Helm • Square shield • Chainbody • Plateskirt • Platelegs |
| Weapons | |

Lucky dragon equipment
Other

Culinaromancer's gloves 9(dragonbone) (Dragon-coloured gloves) • Broken axe • Ruined lump • Ruined shard • Ruined slice • Shield left half • Shield right half • Dragon limbs
Brawling gloves

Melee • Magic • Ranged • Agility • Cooking • Firemaking • Fishing • Hunter • Mining • Prayer • Smithing • Thieving • Woodcutting

Corrupt Dragon Equipment

| | |
| --- | --- |
| Armour | Helm • Square shield • Chainbody • Plateskirt • Platelegs |
| Weapons | |

Ancient Warriors' Equipment

| | |
| --- | --- |
| Statius's equipment | |
| Vesta's equipment | Chainbody • Plateskirt • Longsword • Spear |
| Zuriel's equipment | Hood • Robe top • Robe Bottom • Staff |
| Morrigan's equipment | Coif • Leather body • Leather chaps • Javelin • Throwing axe |

Corrupt Ancient Warriors' Equipment

| | |
| --- | --- |
| Corrupt Statius's equipment | |
| Corrupt Vesta's equipment | Chainbody • Plateskirt • Longsword • Spear |
| Corrupt Zuriel's Equipment | Hood • Robe top • Robe Bottom • Staff |
| Corrupt Morrigan's Equipment | Coif • Leather body • Leather chaps • Javelin • Throwing axe |

Ancient artefacts

| | |
| --- | --- |
| Icons | Bandos scrimshaw • Saradomin carving • Zamorak medallion • Armadyl totem |
| Statuettes | Bandos statuette • Saradomin statuette • Zamorak statuette • Armadyl statuette • Seren statuette • Ancient statuette |
| Others | Broken statue headdress • Third age carafe • Bronzed dragon claw • Ancient psaltery bridge • Saradomin amphora • Guthixian brazier • Ruby chalice |