Corporeal Beast
Discuss

179
22,528pages
on this wiki
This article has a strategy guide here.
Corporeal Beast
Also called
Corp beast, Corp
Release date
15 September 2008 (Update)
Members?
Yes
Combat level
210
XP per kill
8750 (and 2887.5 experience)
Always drops
Nothing
Examine text
A vision of supernatural horror.

Combat stats
LP
Max hit
100,000
4500+ (magic), 2000+ (melee), 5009+ (stomp attack)
Attack
Defence
Ranged
Magic
75
75
75
75
Other
Immune to Poison?
Immune to Stun?
Yes
Yes
Attack Speed

Speed 6 (Interval: 2.4 seconds)

Aggressive?
Poisonous?
Yes
No
Attack styles
Weakness
Melee
Magic

Nothing

[view template]
The Corporeal Beast is currently the fourth strongest attackable monster in RuneScape, behind Queen Black Dragon, Nex, and Kalphite King . It was released on 15 September, 2008 with the Summer's End quest, and completion of the quest is required to fight it. On 15 October, 2008, Jagex added a new attack (Stomp), which harms players underneath it. The Beast's health bar is three times as long as usual.
It has a very high defence and 100,000 life points, making it challenging to solo. The Corporeal Beast will fully restore his life points if players leave its cavern.
Gravestones will not appear within the area. Lost items will become visible to other players after 3.5 minutes[1] and disappear after another minute. It's possible to get back within a minute, especially by choosing to protect the games necklace.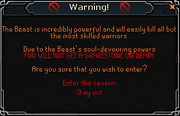 The Beast resides in the caverns north of the
ruined farms
in the
Wilderness
at level 45, in the final of the three connected caverns. The caverns themselves are not part of the wilderness.
Getting there
Edit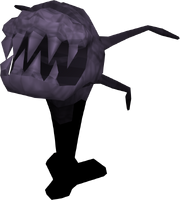 The easiest way to get to the Corporeal beast is to teleport there using a Games Necklace, using the "Corporeal beast" option and then walk through the caverns to the third, final room. The caverns can also be entered from the Wilderness.
If players have not completed Summer's End, they cannot use the games necklace teleport. In addition, they cannot enter if they have completed Summer's End to the point where they collapse the cave entrance in the real world.
Killing tactics
Edit
Unique drops
Edit
Represents 90% confidence range, based on a sample of 3,628 kills.
13 charms are dropped at a time.

"Uncuts" drop
Edit
The "uncuts" drop is an uncommon drop, which is always consisting of an uncut gem and one or more of the following:
Although the Corporeal beast does not have a reference to the Rare Drop Table, there is an incredibly low chance of an additional item from the RDT. This drop can only occur in combination with the "uncuts" drop, and does not require a Ring of Wealth.
Weapons and armour
Edit
Item
Quantity
Rarity
GE Market Price
Spirit shield
1
Uncommon
40,353
Adamant arrow
750
Common
38,250
Runite bolts
250
Common
100,000
Cannonball
2,000
Common
372,000
Mystic air staff
1
Common
38,026
Mystic water staff
1
Common
25,318
Mystic earth staff
1
Common
24,990
Mystic fire staff
1
Common
25,119
Mystic robe top (blue)
1
Uncommon
71,312
Mystic robe bottom (blue)
1
Uncommon
47,278
Regen bracelet
1
Uncommon
119,886
Onyx bolts (e)
175
Uncommon
1,545,775
Essence and runes
Edit
Ores, bars and wood
Edit
Secondaries and seed
Edit
Miscellaneous
Edit
Rare drop table
Edit
This monster can drop items from the Rare drop table.
Show the additonal drops of the rare drop table
Item
Quantity
Rarity
GE Market Price
Coins
250, 3,000, 12,000
Common
Not sold
Dragon dagger
1
Common
17,221
Uncut dragonstone
1
Common
14,935
Adamant bolts
200
Uncommon
17,400
Big bones
150 – 500 (noted)
Uncommon
67,350–224,500
Clean toadflax
25–250 (noted)
Uncommon
95,050–950,500
Clean ranarr
33 (noted)
Uncommon
74,448
Clean snapdragon
30–120 (noted)
Uncommon
106,530–426,120
Clean torstol
10–100 (noted)
Uncommon
118,420–1,184,200
Coal
150–7,500 (noted)
Uncommon
41,700–2,085,000
Adamantite ore
150–800 (noted)
Uncommon
227,700–1,214,400
Pure essence
500–15,000 (noted)
Uncommon
42,500–1,275,000
Earth talisman
25–35 (noted)
Uncommon
19,825–27,755
Fire talisman
25–34 (noted)
Uncommon
50,450–68,612
Water talisman
1
Uncommon
4,721
Raw swordfish
125 – 250, 1,000 (noted)
Uncommon
37,250–298,000
Raw shark
250–500 (noted)
Uncommon
246,500–493,000
Watermelon seed
3
Uncommon
6,030
Onyx bolts
150
Rare
1,303,050
Rune arrow
150–200, 500
Rare
29,850–99,500
Battlestaff
200 (noted)
Rare
1,665,400
Air orb
1,000 (noted)
Rare
1,418,000
Fire orb
1,000 (noted)
Rare
1,612,000
Runite ore
100 (noted)
Rare
1,041,900
Adamant bar
1,450–7,000 (noted)
Rare
4,593,600–22,176,000
Rune bar
1,50,150 (noted)
Rare
13,002–1,950,300
Yew seed
1–50
Rare
71,385–3,569,250
Magic seed
1–6
Rare
160,602–963,612
Palm tree seed
10
Rare
1,064,590
Torstol seed
1–31
Rare
78,509–2,433,779
Snapdragon seed
1
Rare
2,196
Yew logs
100–20,000 (noted)
Rare
56,100–11,220,000
Dragon dagger
50 (noted)
Very rare
861,050
Saradomin brew (4)
250, 2,500 (noted)
Very rare
172,000–1,720,000
Vecna skull
1
Very rare
133,474
Since everything in the spirit realm is the opposite of what is in Gielinor, the Corporeal Beast is in Gielinor because the player defeats the beast in the spirit realm at the end of Summers End, causing it to become real in Gielinor.
During the 9 June 2009 game engine update glitch, players could solo the Corporeal Beast because it would not retaliate using magic. It could, however, stomp players. The only users known to be banned were the ones who revealed their names in posted videos in internet.
An update to the ring of wealth on 15 March 2011 caused its effect to stack depending on the amount of clan members with lootshare enabled. This caused the Corporeal Beast, and other bosses regularly hunted by clans, to drop sigils and other rare items at a high frequency. This bug was patched within an hour of its release. Jagex later issued a statement with an apology and revealed that there would be no rollbacks.
If you look carefully and go to the Beast's spawn point, you'll see parts of a room that is used for Nomad's Requiem.
When you kill the Beast, your Adventurer's Log will say: "I killed the Corporeal Beast, a vision of supernatural horror.

Killing more then one will say "I killed # Corporeal Beast, both/all visions of supernatural horror."

Unlike most bosses/monsters, collecting an item such as a mystic robe bottom from the Beast will result in "After killing the Corporeal Beast, it dropped a mystic robe (top/bottom)."
The place the Corporeal Beast resides in is in the Wilderness. However, if the player checks the Task list, it will say it is in the Gnome Lands.
If a player dies in the Corporeal Beast's lair, they will have to restart from the beginning again. This is similar to Nex, though Nex will disappear instead of wandering around.
The Corporeal Beast has the highest priced loot a player may get, which is the divine sigil.
Before the Evolution of Combat, the Corporeal Beast was commonly killed in any LootShare world, because of the ease of banking. After its release, very few players will solo it because of its ability to hit players hard along with the core not being stunned by poison anymore.
When the player kills the Beast and gets a sigil, it will be shown on the News Feed.
Random events after death were re-introduced at the Items Kept on Death update. A player will still be able to retrieve their lost items, even if they encounter the Maze random event.
There is/was a bug which would trigger the dark energy core indefinitely, flooding the entire cavern with them.
The beast appears on one of the possible images in elite clue sliding puzzles.
Corporeal Beast means transmorphed between two worlds (possibly a reference to the spirit world and the real world).
References
Edit