Walkthrough
Edit
Start point
Speak to the High Priest of Icthlarin
Member requirement
Members only
Official difficulty
Master
Length
Medium (~35 minutes)
Requirements

Quests:

Items required
Items from the tool belt are not listed unless they do not work or are not automatically added.

Recommended:

Enemies to defeat
Tunnels under Sophanem
Edit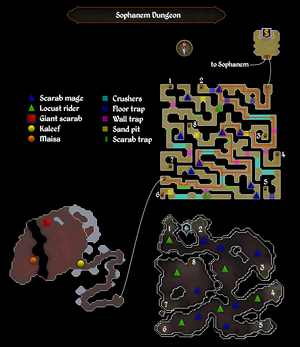 Talk to the High Priest in Sophanem
, then after the cutscene, .
Talk to Jex in the north-east corner of the city.
Climb down the ladder in the nearby building, and down again.
Protect from magic prayers and auto-retaliate off is recommended.
Follow the red line through the maze (pictured right).

You can avoid traps by clicking on them, or walking round them where appropriate.
For high level players you can take the ladder marked (2) and run to ladder (6) to skip most the maze.

Climb down the ladder.
Search Kaleef's body and read the parchment.
Talk to Maisa to the west.
Talk to Osman inside the Al Kharid palace.
Prepare to fight a level 86 foe.
Talk to Osman outside Sophanem.
Run all the way back to Kaleef's body.
The final fight
Edit
Kill the giant scarab and take the keris.
Talk to Osman.
Return to the High Priest (there is no shortcut back, teleporting is possible).
Quest complete!
Ad blocker interference detected!
Wikia is a free-to-use site that makes money from advertising. We have a modified experience for viewers using ad blockers

Wikia is not accessible if you've made further modifications. Remove the custom ad blocker rule(s) and the page will load as expected.