The Common Kebbit is used to train Hunter. The kebbit must be tracked and caught with a Noose wand. Hunting begins in a Burrow, which looks similar to a Rabbit hole, but isn't.
Common Kebbit pursuits always start at burrows, are extended by inspecting plants, and end in a bush. Common Kebbits give common kebbit fur when caught, the fur can be taken to the Varrock Fancy Dress Shop along with 20 gold coins and turned into Wood camouflage gear.
The Common Kebbit is found in the same area as the Razor-backed kebbit and the two different tracking spots might often be confused.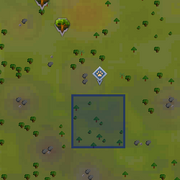 Piscatoris Hunter area
Falconry
 Spotted
 Dark
 Dashing
Rellekka Hunter area
 Polar kebbit
 Sabre-toothed
Feldip Hunter area
 Feldip weasel
 Barb-tailed
 Diseased
Uzer Hunter area
Desert Devil
Other areas
 Chocolate