Commander Zilyana/Strategies
Discuss

0
22,513pages
on this wiki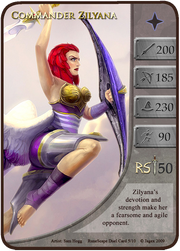 Fighting method
Edit
After the evolution of combat, Zilyana's weakness changed to water spells. The best strategy at this time is to cast Ice barrage while using the Soul split and Torment curse while staying close to a wall. Using a shield will allow the use of Rejuvenate, meaning one can camp many kills without the use of much food. The higher one's stats, the longer one can stay. A full beast of burden such as a Pack Yak or War tortoise combined with a Unicorn stallion / Fire titan and scrolls can prolong trips. For group fights one person should be designated as a tank, using Incite to lure the monster's focus. Remember not to underestimate Commander Zilyana as she does hit consistently. This makes the use of spirit shields, namely the Arcane spirit shield useful, as it reduces incoming damage.
Some tricks / techniques the average team uses:
When she spawns, a ranger is usually the first to distract Commander Zilyana, as the ranger is able to attack from a distance.
A team member stuns Commander Zilyana with a Zamorak Godsword passive effect so she cannot move. This makes the kill slightly smoother, as players can simply step away from the Commander's reach. This results in less running around for the team.
Commander Zilyana and her bodyguards are very dangerous, so teams usually bring healing familiars (such as Fruit Bats, or Unicorn Stallions), Guthan's armour , or Bones to Peaches tablets in order to heal and stay longer.
Players may also like to use Titan familiars to heal due to the fact they are also combat familliars, giving Zilyana a target to attack other than the player(s).
Players usually stand at the south wall while waiting for her to spawn.
Teams can rest in between kills. The "rest" feature allows teams to recover run energy and life points more quickly.
Teams pray at the altar when they're low on prayer points. It is ill-advised to pray at the altar when a player has high prayer points because the altar will only restore the player's prayer points once every 10 minutes.
Magic equipment
Edit
Melee equipment
Edit
Head: Tetsu Helm > Torva Helm > Bandos Helm > Barrows Helm > Dragon Full Helm
Neck: Demon Horn Necklace > Saradomin's Whisper > Amulet of Fury > Amulet of Glory
Torso: Tetsu Body > Torva Platebody > Bandos Chestplate > Barrows Body > Dragon Platebody
Legs: Tetsu Legs > Torva Platelegs > Bandos Tassets > Barrows Legs > Dragon Platelegs
Boots: Steadfast Boots > Torva Boots > Bandos Boots > Dragon Boots
Cape: Completionist Cape > Max Cape > Skill Cape
2h Weapon: Chaotic Maul > Godsword > Saradomin Sword > Zamorakian Spear
Mainhand Weapon: Drygore Weaponry > Chaotic Rapier or Longsword
Offhand Weapon: Drygore Weaponry > Offhand Chaotic Rapier or Longsword
Gloves: Pneumatic Gloves > Goliath Gloves > Cullimacers Gloves (10) > Bandos Gloves
Ring: Beserkers Ring or Sixth-Age circuit > Ring of wealth
Aura: Vampyrism > Penance > Reverance
Familiar: Unicorn Stallion > Pack Yak > War Tortoise > Bunyip
Other: Soul Split and Turmoil, Dreadnips, Bonecrusher
Melee is a very hard strategy to pull off at Saradomin GWD due to the fact that you take more damage. This strategy is only for those who have max stats and have a lot of experience with the ability bar. However, melee is considerably faster than mage due to the existence of level 90 weaponry. The strategy involves saving adrenaline after each kill in order to use beserk at the start of each kill and work to assault. If you use Demon Horn Necklace and Bonecrusher, you will not need food. Activate Turmoil and Soul split at the beginning of each kill and deploy dreadnips. Once again, this is a very hard strategy to pull off, but with time, kills as fast as 20 seconds are possible. Do not try this strategy with sub-par gear or experience as it will end in a very short and deadly trip.
Hard mode
Edit
Zilyana (Hard mode) In Hard Mode, Zilyana gains 2 special abilities and she also has 2 phases.
Phase 1: Same as normal mode. Attacks with melee and mage.
Phase 2: Zilyana gains the ability to summon lightning throughout the room. Standing on these spaces can deal over 1000 damage. Once her health reaches 0 she will lie down on the floor and gain an adrenaline bar under her hitpoints bar. To kill her you need to use an ultimate (that deals direct damage) before the bar fills up. If you fail to do this she will heal around 1/3 of her lifepoints.