Commander Zilyana
Discuss

33
27,308pages on
this wiki
This article has a related strategy guide
here
.
This article has a related strategy guide
here
. 
(Hard Mode)
Commander Zilyana
Also called
Saint Zilyana
Release date
28 August 2007 (Update)
Members?
Yes
Combat level
596
XP per kill
4,796.6 (and 1,582.8 experience)
Always drops
Bones
Examine text
Commander of Saradomin's forces.

Combat info
LP
Max hit
60,000
1,800 (melee), 2,200 (magic)
Attack
Defence
Ranged
Magic
75
75
1
75
Immune to
Poison?
Stun?
Deflect?
Yes
Yes
No
Attack Speed

Speed 8 (Interval: 1.2 seconds)

Aggressive?
Poisonous?
Yes
No
Attack styles
Weakness
Melee
Magic
Nothing
[view]

Commander Zilyana, Keeper of the Faith,
is the leader of Saradomin's army in the
God Wars Dungeon
. She is an
Icyene
, an ancient race of winged beings, chosen by Saradomin to guard his
hilt
. Commander Zilyana uses a melee attack and a magic attack. She attacks with her multi-target magic attack when her sword glows with a bright blue aura and she raises it in the air. If the attack hits a player, a small wall of lightning will appear around the player. She attacks with melee when she simply slashes at the player with her sword. Her melee attack is not multi-target. Both her magic and melee attacks only work at close range.
In addition, both her magic and melee attacks have a max of around 2000 life points, but with only moderate accuracy. Her attacks are as fast as Darts and hit at the same time (she will only use magic in melee distance). She targets the player closest to her upon spawning, but switches to the player who has currently done the most damage to her.
Commander Zilyana is located in the back room of Saradomin's Encampment. Players must have 70 Agility to reach her. In addition, she has 3 bodyguards: Growler (magic), Bree (ranged) and Starlight (melee).
Note: You can not reach her if you do not have 70 Agility (boosts such as Summer pies do not work).
Commander Zilyana is dangerous and should not be underestimated. You need a killcount of 40 followers of Saradomin to enter her Boss Room; Should you die, you are likely to lose your risked items unless your Grave is blessed by another player. For those willing to take this risk, the rewards are great, as she drops the valuable Saradomin Hilt, as well as a variety of other rare Saradomin-themed Combat items. Her bodyguards also have a small chance of dropping the lesser Rares, which may be useful to know for those with AOE attacks who can kill them mulitple times per kill.
If Blood Spells are used on her consistently, the message "Commander Zilyana becomes more enraged by your spells and tries to channel them to increase her own power!" will appear in the chatbox, and her power will be boosted, granting her stronger attacks. This effect stacks (although there is a cap to it), so continued use of blood spells may prove fatal. A better alternative is Shadow Barrage, which reduces her damage, whilst hitting Zilyana and everything around her.
Bodyguards
Edit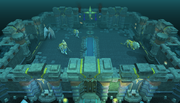 When in battle, the Commander shouts several battle cries while fighting the players that dare to venture into her domain. She is voiced by Mod Ana.
Death to the enemies of the light!
Slay the evil ones!
Saradomin lend me strength!
By the power of Saradomin!
May Saradomin be my sword.
Good will always triumph!
Forward! Our allies are with us!
Saradomin is with us!
In the name of Saradomin!
Attack! Find the Godsword!
Hard Mode
Edit
When entering the battle area players are given the option of fighting Zilyana in Hard Mode. When fought in Hard Mode, in addition to increased stats, Zilyana has two phases to the fight, with additional abilities. She also has better drops, although chances for rarer loot such as saradomin swords is not increased.
In Phase 1, Commander Zilyana has the same attacks as she does in standard mode, however, after being defeated once, Commander Zilyana will heal back to full health and must be defeated again, beginning Phase 2.
Lightning
Edit
During Phase 2, Zilyana gains the ability to summon squares of lightning throughout the room. Standing on these spaces can deal over 1000 damage.
Once her health reaches 50 lifepoints, Commander Zilyana will lie down on the floor and a bar that looks similar to an adrenaline bar appears under her lifepoints bar. She is invulnerable during this time, and the only way to finish her off is to successfully hit her with an Ultimate Ability before the bar fills up. If this is not done, she heals 1/3 of her lifepoints.
The World Wakes
Edit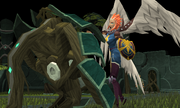 During the quest The World Wakes, Zilyana, along with many other important followers of other gods discover that the player had found Guthix's home, and gather forces to break in to kill Guthix, ending his edicts and allowing their gods to return. During the quest, Zilyana kills the Guardian of Guthix Cres, believing that he was Guthix in disguise. She was the only God Wars Dungeon boss along with Nex to make it to the last room of the Guthix ancient temple.
Missing, Presumed Death
Edit
Zilyana makes another appearance in the quest Missing, Presumed Death. She is at the Empyrean Citadel, which was taken over by the Mahjarrat Sliske for his grand ascendacy into godhood. Zilyana is present here with Saradomin and appears once again as his chosen champion. As she did not receive a invitation, Zilyana is left outside the entrance with the other generals. Zilyana was seen arguing with the elf Ifleen and the player could choose to either support Zilyana, Ifleen, or tell them the truth. Her obedience to Saradomin can be seen when the player chooses to tell her the truth and she declines Ifleen's offer for a truce, declaring, "It is not truth until Saradomin decrees it so!" After the quest Zilyana, along with the other gods and their generals, disappears from the Empyrean citadel.
|   | Item | Quantity | Rarity | GE market price |
| --- | --- | --- | --- | --- |
| | Bones | 1 | | 168 |
Represents 90% confidence range, based on a sample of 2,236 kills.
1 charm is dropped at a time.

Runes and Ammunition
Edit
|   | Item | Quantity | Rarity | GE market price |
| --- | --- | --- | --- | --- |
| | Rune dart | 36–40 | | 3,600–4,000 |
Herbs, Potions and Seeds
Edit
Saradomin brew (3) and Super restore (4) are always dropped together.
Super magic potion (3) and Super defence (4) are always dropped together.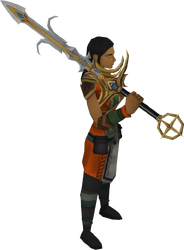 Hard mode drops
Edit
Commander Zilyana's normal drop table is different during hard more. She still may drop any of the unique god items.
Rare drop table drops
Edit
This monster has access to the rare drop table.
The ring of wealth is not required to access the table.
Show/hide rare drop table
Item
Quantity
Rarity
GE Market Price
Coins
200–350,3,000
Common
Not sold
Uncut sapphire
1
Common
1,129
Uncut emerald
1
Common
2,080
Uncut ruby
1
Common
3,015
Uncut diamond
1
Uncommon
4,992
Loop half of a key
1
Uncommon
27,802
Tooth half of a key
1
Uncommon
30,725
Uncut dragonstone
1
Rare
13,166
Dragonstone
1
Rare
9,399
Dragon dagger
1
Uncommon
16,560
Rune battleaxe
1
Rare
24,260
Rune javelin
5
Rare
890
Adamant javelin
20
Very rare
1,200
Rune 2h sword
1
Very rare
37,048
Rune spear
1
Very rare
11,487
Dragon spear
1
Very rare
37,309
Battlestaff
200 (noted)
Rare
1,574,200
Rune sq shield
1
Very rare
22,169
Rune kiteshield
1
Very rare
31,952
Shield left half
1
Very rare
63,953
Dragon helm
1
Very rare
58,946
Adamant bolts
200
Uncommon
12,200
Onyx bolts
150
Rare
1,258,500
Rune arrow
150
Rare
22,650
Vecna skull
1
Very rare
94,419
Water talisman
1
Uncommon
10,892
Earth talisman
25–35 (noted)
Uncommon
67,475–94,465
Fire talisman
25–35 (noted)
Uncommon
64,750–90,650
Chaos talisman
1
Uncommon
546
Nature talisman
1
Uncommon
358
Pure essence
1,000–1,500 (noted)
Uncommon
15,000–22,500
Nature rune
60–80
Rare
21,120–28,160
Soul rune
20
Rare
3,980
Law rune
45
Rare
18,855
Death rune
50
Rare
17,400
Blood rune
50
Rare
24,600
Raw swordfish
125–250 (noted)
Uncommon
54,750–109,500
Raw shark
250 (noted)
Uncommon
288,500
Big bones
150–180 (noted)
Uncommon
76,800–92,160
Coal
550–700 (noted)
Uncommon
145,200–184,800
Adamantite ore
150–250 (noted)
Uncommon
197,700–329,500
Silver ore
100 (noted)
Rare
9,200
Runite ore
100 (noted)
Rare
1,075,400
Rune bar
1
Common
14,228
Rune bar
50 (noted)
Very rare
711,400
Clean toadflax
35–45 (noted)
Uncommon
118,195–151,965
Clean snapdragon
30–35 (noted)
Uncommon
115,740–135,030
Clean torstol
16–34 (noted)
Uncommon
94,528–200,872
Snapdragon seed
1
Common
1,349
Torstol seed
1
Uncommon
16,965
Watermelon seed
3
Uncommon
7,323
Magic seed
3–7
Rare
485,586–1,133,034
Palm tree seed
10
Rare
1,619,110
Yew logs
450–550 (noted)
Rare
162,450–198,550
Crystal triskelion fragment 1
1
Very rare
Not sold
Crystal triskelion fragment 2
1
Very rare
Not sold
Crystal triskelion fragment 3
1
Very rare
Not sold
Brawling gloves (Melee)
1
Very rare
Not sold
Brawling gloves (Magic)
1
Very rare
Not sold
Brawling gloves (Ranged)
1
Very rare
Not sold
Brawling gloves (Agility)
1
Very rare
Not sold
Brawling gloves (Cooking)
1
Very rare
Not sold
Brawling gloves (FM)
1
Very rare
Not sold
Brawling gloves (Fishing)
1
Very rare
Not sold
Brawling gloves (Hunter)
1
Very rare
Not sold
Brawling gloves (Mining)
1
Very rare
Not sold
Brawling gloves (Prayer)
1
Very rare
Not sold
Brawling gloves (Smithing)
1
Very rare
Not sold
Brawling gloves (Thieving)
1
Very rare
Not sold
Brawling gloves (WC)
1
Very rare
Not sold
Universal drops
Edit
Universal drops are dropped by nearly every monster outside of Daemonheim.
These drops are dropped alongside main drops.
|   | Item | Quantity | Rarity | GE market price |
| --- | --- | --- | --- | --- |
| | Key token | 1 | | Not sold |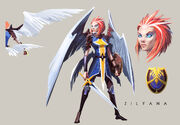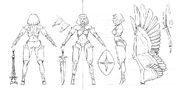 In the Saradomin Strikes Campaign on Armies of Gielinor, it is revealed that at some point during the God Wars, Zilyana was captured by Zamorak, but then escaped.
Commander Zilyana received several extra buffs on the release of the Triskelion Treasures update. If she is constantly attacked by blood spells, she will become "enraged". Along with the same update, her magical strength was drastically increased, changed her weakness from Water spells to nothing, and had an increased magical defence.
Zilyana has her own "custom" specials, made by Mod Chris L because she was the only original God Wars boss not to be fought during The World Wakes. 
Commander Zilyana is the only God Wars General to make a direct reference to the Godsword.

Commander Zilyana features in a flashback during the Ritual of the Mahjarrat quest. She is seen facing K'ril Tsutsaroth in battle. As they battle, K'ril gets the upper hand and blasts Zilyana away, critically injuring her. He takes a final look at her body and departs. Saradomin himself comes to rescue her and takes her to the Fist of Guthix arena, where the Stone of Jas lies, and heals her. She also received a graphical update with the release of this quest.
Zilyana is the only Icyene shown in-game to have two sets of wings; one on her back near her shoulder-blades and another on her lower back near her lumbar. It is currently unknown whether this second set of wings is unique to her only or if she has them because she is female.
There is currently a glitch where when viewing Zilyana in the Beasts Tab, the altar behind her is Armadyl's and not Saradomin's.