Commander Zilyana
Discuss

29
22,529pages
on this wiki
This article has a strategy guide here.
Commander Zilyana
Also called
Saint Zilyana
Release date
28 August 2007 (Update)
Members?
Yes
Combat level
210
XP per kill
5630 (and 1857.9 experience)
Always drops
Bones
Examine text
Commander of Saradomin's forces.

Combat stats
LP
Max hit
50,000
1900
Attack
Defence
Ranged
Magic
75
75
1
75
Other
Immune to Poison?
Immune to Stun?
Yes
Yes
Attack Speed

Speed 8 (Interval: 1.2 seconds)

Aggressive?
Poisonous?
Yes
No
Attack styles
Weakness
Melee
Magic

Water spells

[view template]

Commander Zilyana, Keeper of the Faith, is the leader of Saradomin's army in the God Wars Dungeon. She is an Icyene, an ancient race of winged beings, chosen by Saradomin to guard his hilt. Commander Zilyana uses a melee attack and a magic attack. She uses them randomly and both attacks are quite accurate. She attacks with her multi-target magic attack when her sword glows with a bright blue aura and she raises it in the air. If the attack hits a player, a small wall of lightning will appear around the player. If her magic attack fails, nothing happens (no 0 life points splat, no splash). She attacks with melee when she simply slashes at the player with her sword. Her melee attack is not multi-target. Both her magic and melee attacks only work at close range.
In addition, both her magic and melee attacks have a max of 1900 life points and they are both very rapid (same speed as dual-wielded dagger-speed weapons), so players should be careful fighting her. She will also target the player that has currently done the most damage to her.
Commander Zilyana is located in the back room of Saradomin's Encampment. Players must have 70 Agility and 40 Saradominist kills to reach her. In addition, she has 3 guards: Growler (magic), Bree (ranged) and Starlight (melee).
Note: You can not reach her if you do not have 70 agility (neither summer pies nor agility potions will help).
Commander Zilyana is dangerous and should not be underestimated. She is tied with fellow God Wars Dungeon bosses General Graardor, K'ril Tsutsaroth and Kree'arra for having the fourth highest combat level among monsters that can be fought with conventional means in RuneScape. Only Nex, the Queen Black Dragon, and the Kalphite King are stronger.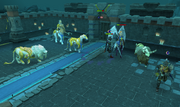 Bodyguards
Edit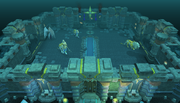 All praise Saradomin!
(
link
)
When in battle, the Commander shouts several battle cries while fighting the players that dare to venture into her domain:
"Death to the enemies of the light!"
"Slay the evil ones!"
"Saradomin lend me strength!"
"By the power of Saradomin!"
"May Saradomin be my sword."
"Good will always triumph!"
"Forward! Our allies are with us!"
"Saradomin is with us!"
"In the name of Saradomin!"
"Attack! Find the Godsword!"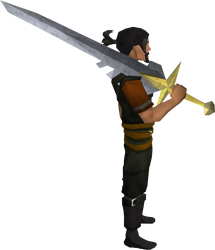 Item
Quantity
Rarity
GE Market Price
Bones
1
Always
83
Runes and Ammunition
Edit
Herbs, Potions and Seeds
Edit
Saradomin brew (3) and Super restore (4) are always dropped together.
Super magic potion (3) and Super defence (4) are always dropped together.
Gems and Ores
Edit
Item
Quantity
Rarity
GE Market Price
Diamond
6 (noted)
Uncommon
12,948
Rare drop table drops
Edit
This monster drops items from the rare drop table.
The ring of wealth improves the chances if equipped but is not required to access the table.
Show/hide rare drop table

Item
Quantity
Rarity
GE Market Price
Coins
250; 381; 450; 3,000; 9,000; 12,000
Common
Not sold
Uncut sapphire
1
Common
1,143
Uncut emerald
1
Common
1,783
Uncut ruby
1
Common
3,576
Loop half of a key
1
Uncommon
8,548
Tooth half of a key
1
Uncommon
12,668
Uncut diamond
1
Uncommon
7,160
Uncut dragonstone
1
Rare
14,935
Dragonstone
1
Rare
9,966
Dragon dagger
1
Uncommon
17,221
Rune battleaxe
1
Rare
24,627
Rune javelin
5
Rare
1,270
Adamant javelin
20
Very rare
920
Rune spear
1
Very rare
12,048
Dragon spear
1
Very rare
36,856
Dragon dagger
50 (noted)
Very rare
861,050
Rune kiteshield
1
Very rare
32,145
Shield left half
1
Very rare
65,188
Dragon helm
1
Very rare
59,636
Adamant bolts
200
Uncommon
17,400
Rune arrow
150–200; 500
Rare
29,850–199
Onyx bolts
150
Rare
1,303,050
Battlestaff
200 (noted)
Rare
1,665,400
Air orb
1,000 (noted)
Rare
1,418,000
Fire orb
1,000 (noted)
Rare
1,612,000
Vecna skull
1
Very rare
133,474
Water talisman
1
Uncommon
4,721
Earth talisman
25–35 (noted)
Uncommon
19,825–27,755
Fire talisman
25–35 (noted)
Uncommon
50,450–70,630
Chaos talisman
1
Uncommon
227
Nature talisman
1
Uncommon
270
Pure essence
500–15,000 (noted)
Uncommon
42,500–1,275,000
Nature rune
47–77
Rare
5,217–8,547
Soul rune
20
Rare
2,420
Death rune
50; 121
Rare
93
Blood rune
50
Rare
8,150
Raw swordfish
125 – 250; 1,000 (noted)
Uncommon
37,250–298
Raw shark
250–500 (noted)
Uncommon
246,500–493,000
Big bones
150 – 500 (noted)
Uncommon
67,350–224,500
Coal
150–7,500 (noted)
Uncommon
41,700–2,085,000
Adamantite ore
150–800 (noted)
Uncommon
227,700–1,214,400
Silver ore
100 (noted)
Rare
10,500
Adamant bar
1,000–7,000 (noted)
Rare
3,168,000–22,176,000
Runite ore
100 (noted)
Rare
1,041,900
Rune bar
1,50,150 (noted)
Rare
13,002–1,950,300
Clean ranarr
33 (noted)
Uncommon
74,448
Clean toadflax
25–250 (noted)
Uncommon
95,050–950,500
Clean snapdragon
30–120 (noted)
Uncommon
106,530–426,120
Clean torstol
10–100 (noted)
Uncommon
118,420–1,184,200
Saradomin brew (4)
250 (noted)
Very rare
172,000
Watermelon seed
3
Uncommon
6,030
Yew seed
1–50
Rare
71,385–3,569,250
Magic seed
1–6
Rare
160,602–963,612
Palm tree seed
10
Rare
1,064,590
Snapdragon seed
1
Rare
2,196
Torstol seed
1–31
Rare
78,509–2,433,779
Fellstalk seed
2
Rare
932
Yew logs
100–20,000 (noted)
Rare
56,100–11,220,000
During the quest The World Wakes, Zilyana, along with many other important followers of other gods discover that the player had found Guthix's home, and gather forces to break in to kill Guthix, ending his edicts and allowing their gods to return. During the quest, Zilyana kills the Guardian of Guthix Cres, believing that he was Guthix in disguise and was the only God Wars Dungeon boss along with Nex to make it to the last room of the Guthix ancient temple.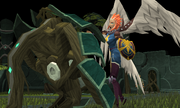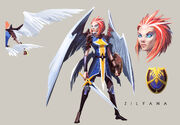 The safe spot for Commander Zilyana was removed on 14 February 2008.
Although her weapon, the Saradomin sword, is a two-handed weapon when equipped by a player, Zilyana wields it in one hand. This is because it is designed to be used by an Icyene warrior, who is a great deal larger than a human, and to that individual the sword is proportionally more suited as a one handed weapon.
Due to the update on August 18 2009, involving combat familiars now being more aggressive, familiars such as Titans, Terrorbirds, and War tortoises are now causing Zilyana to target and attack players at a random rate. This happens because if a player's familiar attacks Zilyana, she will automatically target the owner of that familiar, regardless of whether or not she has just chased them.
Commander Zilyana is the only boss in the God Wars Dungeon to make a direct reference to the Godsword.
The art for Commander Zilyana on the RuneScape Cards shows her hair to actually be composed of feathers.
The Saradomin sword which Zilyana wields in the RuneScape wallpaper is much shorter than the one she wields in the game.
Like Graardor and K'ril, Zilyana does not farcast her magical attack, and only uses it if in melee range.
In the Saradomin Strikes Campaign on Armies of Gielinor, it is revealed that at some point during the God Wars, Zilyana was captured by Zamorak, but then escaped.
In Zilyana's chamber, players could see an inaccessible watery area. It has been confirmed that it will not be released. It was originally intended to be an entrance to Zamorak's Fortress, but was replaced by the river due to time constraints.
With the release of The Ancient Prison and Nex in the God Wars Dungeon, Zilyana became voiced, together with the other 3 Generals.[7]
Commander Zilyana is voiced by Mod Ana.
Zilyana's attacks have some of the longest animations of any monster in the God Wars Dungeon. This means while she is casting her magic attack, due to the long animation she will also throw in another magic or a melee attack without the animation.
Despite being a large monster, Zilyana only drops Bones, and not Big bones. This may be an oversight from Jagex.
Zilyana has her own "custom" specials, made by Mod Chris L because she was the only original God Wars boss not to be fought during The World Wakes.

Commander Zilyana features in a flashback during the Ritual of the Mahjarrat quest. She is seen facing K'ril Tsutsaroth in battle. As they battle, K'ril gets the upper hand and blasts Zilyana away, killing her. He takes a final look at her body and departs. Saradomin himself comes to rescue her and takes her to the Fist of Guthix arena, where the Stone of Jas lies, and heals her. She also received a graphical update with the release of this quest.
Zilyana appears in the quest "The World Wakes". She is hell-bent on killing Guthix so that Saradomin may return to Gielinor.
Spoilers:* Also in The World Wakes, Sliske mentions to the player that Zilyana is "Saradomin's primary pawn..." It is unknown if this means anything significant yet.
References
Edit