Combat potion
Discuss

5
22,529pages
on this wiki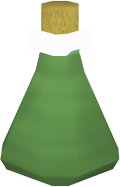 Combat potions are made by mixing clean harralander and then Goat horn dust in a Vial of water, giving 84 Herblore experience. This requires level 36 Herblore.
Combat potions temporarily raise Attack and Strength by 10% of each level and give an additional +3 bonus to each. Players may prefer this potion to a super set (without a Super defence potion) because it has the combined properties of an Attack potion and a Strength potion, has a low cost, and takes up only one inventory space. Even though a Combat potion raises both Attack and Strength, it is cheaper than a Strength potion; this is likely due to the fact that Strength potions, unlike Combat potions, are available to Free-to-play players.
Combat potions are great for training herblore, because they have a low cost per experience. 200k experience costs around 4 mil, while most other potions around its level would cost between 6m - 13m.
Combat potions can be a good value for player killing and PvM activities because:
They are inexpensive.
They give decent stat boosts.
They help you kill monsters faster, resulting in faster experience gain, task completions and drop acquisitions.
Production costs
Edit
This table is based on the Grand Exchange prices of a vial of water, the harralander, and goat horn dust. It is accurate assuming all three items are bought from the Grand Exchange and the Combat potion is sold afterwards.
| Herb state | Material cost | Profit/loss | Profit/xp |
| --- | --- | --- | --- |
| Clean | 2,021 | -1,978 | -23.55 |
| Grimy | 2,002 | -1,959 | -21.69 |
Dropping monsters
Edit
Combat potion (1)
Edit
| Monster | Combat level | Quantity | Rarity |
| --- | --- | --- | --- |
| Dried zombie | 89, 94, 110 | 1 | |
Combat potion (3)
Edit
Unfinished potions

Coconut milk • Guam • Rogue's purse • Marrentill • Tarromin • Harralander • Ranarr • Toadflax • Spirit weed • Magic essence • Irit • Wergali • Avantoe • Kwuarm • Snapdragon • Cadantine • Lantadyme • Antipoison+ • Dwarf weed • Weapon poison+ • Torstol • Antipoison++ • Weapon poison++ • Fellstalk

Combat potions

Attack (mix) • Strength (mix) • Defence (mix) • Magic (mix) • Ranging (mix) • Combat (mix) • Super attack (mix) • Super strength (mix) • Magic essence (mix) • Super defence (mix) • Antifire (mix) • Super ranging (mix) • Super magic (mix) • Zamorak brew (mix) • Saradomin brew • Super antifire • Extreme attack • Extreme strength • Extreme defence • Extreme magic • Extreme ranging • Overload

Recovery potions

Stat restore (mix) • Energy (mix) • Summoning • Prayer (mix) • Super energy (mix) • Super restore (mix) • Sanfew serum • Adrenaline potion • Super prayer • Prayer renewal

Cures and antipoisons

Relicym's balm (mix) • Antipoison (mix) • Super antipoison (mix) • Yeti curse cure • Sanfew serum • Antipoison+ (mix) • Antipoison++

Skill potions

Agility (mix) • Fishing (mix) • Hunter (mix) • Fletching • Crafting

Unfinished Juju potions
Juju potions

Juju hunter potion • Scentless potion • Juju farming potion • Juju cooking potion • Juju fishing potion • Juju woodcutting potion • Juju mining potion • Saradomin's blessing • Guthix's gift • Zamorak's favour

Weapon poisons
Others

Bravery potion • Cadava potion • Goblin potion • Guthix balance (unf) • Guthix balance • Guthix rest • Potion • Mixture - step 1 • Mixture - step 2 • Shrink-me-quick • Super fishing explosive • Troll potion • 'voice of doom' potion • Olive oil • Sacred oil • Serum 207 • Serum 208 • Yeti curse cure

Tars

Guam • Marrentill • Tarromin • Harralander

Flasks

Agility • Antifire • Antipoison • Antipoison+ • Antipoison++ • Attack • Crafting • Defence • Energy • Extreme attack • Extreme defence • Extreme magic • Extreme ranging • Extreme strength • Fishing • Fletching • Guthix's gift • Guthix balance • Hunter • Juju cooking • Juju farming • Juju fishing • Juju hunter • Juju mining • Juju woodcutting • Magic essence • Magic • Overload • Prayer • Prayer renewal • Ranging • Recover special • Relicym's balm • Restore • Sanfew serum • Saradomin's blessing • Saradomin brew • Scentless potion • Serum 207 • Serum 208 • Summoning • Super antifire • Super antipoison • Super attack • Super defence • Super energy • Super magic • Super prayer • Super ranging • Super restore • Super strength • Weapon poison • Weapon poison+ • Weapon poison++ • Zamorak's favour • Zamorak brew

Dungeoneering potions

| | |
| --- | --- |
| Weak potions | Magic • Ranged • Melee • Defence • Stat restore • Cure • Rejuvenation • Weapon poison • Gatherer's • Artisan's • Naturalist's • Survivalist's |
| Normal potions | Magic • Ranged • Melee • Defence • Stat restore • Cure • Rejuvenation • Weapon poison • Gatherer's • Artisan's • Naturalist's • Survivalist's |
| Strong potions | Magic • Ranged • Melee • Defence • Stat restore • Cure • Rejuvenation • Weapon poison • Gatherer's • Artisan's • Naturalist's • Survivalist's |