Combat beta contract
Discuss

7
22,529pages
on this wiki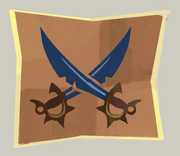 The Combat beta contract is an item that was added to players' inventories on June 1, 2012. Upon clicking on it, the player will be directed to a website where he/she can sign up for the beta. Once he/she has signed up, an invitation may be sent to that person via email on June 26.
Full access to the beta will be available to players who have been a member for at least 1 consecutive year. Members will be able to access it on select weekends when the beta officially launches.
50,000 of the most active users will also receive beta invites.
Accepting the invite takes the player to a new window or tab, where they are prompted to enter their RuneScape username and password for verification. Once this is completed, a popup message reads:
"
Congratulations

Congratulations! As a highly valued member of our community you are automatically eligible to take part in the Evolution of Combat BETA.

On the 26th of June you'll be able to login to the BETA servers to take part!

Return to the Combat HQ for more information and updates and we'll see you on the 26th!

"
Note: If you logged in with a full inventory, remove an item from your inventory and re-login and the contract should show up in your inventory.
This item cannot be re-obtained if destroyed; however, players can still sign up on the RuneScape website if the contract is lost.
Free-to-play players may receive this item although it is unusable. When free players deposit the contract into the bank, they will deposit in member bank space instead of free player space.
See also