The combat room is a room in Player-owned house, that can be built with 32 Construction and 25,000 coins.
The main feature of this room is the combat arena, where a player can freely fight anyone within the arena without losing their items. If a player dies in the arena, they are simply teleported out of it to another place in the room.
There are three different types of hotspots that can be built upon:
Combat Ring - Players can have various types of fights here
Storage - Racks that hold various weapons for the combat ring
Decoration - Serves as decoration
Decoration
Edit
Combat Ring
Edit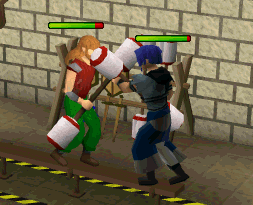 Storage space
Edit
Wall ecorations
Combat rings
Storage
 Glove rack
 Weapons rack
 Extra weapons rack
Ad blocker interference detected!
Wikia is a free-to-use site that makes money from advertising. We have a modified experience for viewers using ad blockers

Wikia is not accessible if you've made further modifications. Remove the custom ad blocker rule(s) and the page will load as expected.