Claus the chef is the chef of the Carnillean Family. He can be found in the basement of the Carnillean household, where the kitchens are. His soup is poisoned by the player during the Hazeel Cult quest, provided the player sides with the Cult of Hazeel, resulting in the family dog, Scruffy, being poisoned and killed. He plays a key part in Carnillean Rising as a guard whom Phillipe must get drunk. He also appears to have connections to some chaos druids, who offer to buy the Cave Wolf Matriarch skull for "research purposes".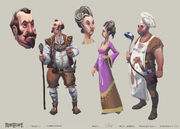 Ad blocker interference detected!
Wikia is a free-to-use site that makes money from advertising. We have a modified experience for viewers using ad blockers

Wikia is not accessible if you've made further modifications. Remove the custom ad blocker rule(s) and the page will load as expected.