Chocatrice
Discuss

5
22,488pages
on this wiki
This is not to be confused with a Cockatrice.

A Chocatrice is a type of cockatrice, that has so far appeared in the 2008 and 2012 Easter Events.
Easter 2008
Edit
In the 2008 Easter event, players had to dip a Cockatrice egg into chocolate, making the Chocatrice egg. This is then hatched into the chocatrice. It was a familiar that F2P players could use during the event, although most familiars are members only. Players made up an insult and told the chocatrice that an animal said it. The insult was often akin to being a 'noob' e.g. 'that rat thinks you still try to wear goblin armour'. The chocatrice then attacked the creature, killed it and then players got chocolate chunks. When attempting to interact with another player's Chocatrice, the player receives the message "This is not the Chocatrice you're looking for". When it attacks a creature, it will use its "Gooey Gaze," like the Petrifying Gaze of the Cockatrice. When a player tries to get it to target itself, the player receives this message "The chocatrice refuses to target itself. How smart!" Also, if players attempted to make their chocatrice attack another player's chocatrice, they would have received the message "The Chocatrice is not interested in attacking that."
Easter 2012
Edit
In the 2012 Easter Event players can participate in a easter egg scavenger hunt, where the Chocatrice was one of the team leaders. (The other being the Evil Chicken)
When players want to hunt eggs for the Chocatrice, players had to start the hunt by talking to the Chocatrice and then receiving an Eggsterminator which had to be fired with the Marshmallow attack-style to crack the Eggs they find and then shooting again on the Chocochick that was released then by cracking the egg.
After the Chocochick was blasted players would receive a Chocotreat in their inventory.
Every 2 hours there were 5 eggs to be found across Gielinor , of which 2 were in member's areas. Finding at least 3 eggs and giving the 3 received Chocotreats to the Chocatrice would result in receiving a Chocolate egg on face mask from him.
When players would find all 5 eggs in 3 rounds they would receive permanent Eggsterminator, after talking to the Chocatrice (or Evil Chicken) and asking him to enchant the Eggsterminator so that it didn't disappear after the Easter event had passed..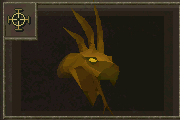 List of insults
Edit
Upon the player (at this point in the form of a bunny rabbit) selecting a target, an insult (usually a 'noob insult' or an insult making fun of the Chocatrice being made of chocolate) would automatically appear above the player's head. This would annoy the Chocatrice enough to attack that target for supposedly making fun of it. Each time, it would start with: "Hey, see that mouse/snail/rat/cockroach/spider over there?" It would then be followed by one of the random insults:

"...It said you'd probably get owned by a chicken."
"...It said you lost your tinderbox and cried."
"...It made up a song about you and it's not very nice."
"...It says it saw you die in Lumbridge cow field."
"...It said I must have dropped your egg."
"...It said you're even afraid of butterflies."
"...It said you can't even wear bronze armour."
"...It said you're thicker than toffee."
"...It said you couldn't even do the Cook's Assistant quest."
"...It says it took you three months to leave Tutorial Island."
"...It said you're the ugliest creature it's ever seen."
"...It read your diary and said it was boring."
"...It said you put off chocolate milk for life."
"...It said you still burn shrimp."
"...Oh my, I think it's staring at you menacingly."
"...It says you're just a jumped-up piece of candy."
"...Oh dear, it says you've never finished a quest."
"...It said it's going to leave you out in the sun to melt."
"...It says you still try to wear goblin armour."
"...It's going to chop you up to make a selection box."
"...It's threatening to melt you into hot chocolate."
"...It just said you look stupid."
"...It said you're just an egg on legs."
"...It said it's going to turn you into a chocolate cake."
"...It looks like it's going to eat you."
"...I heard it plotting to pull your feathers out."
"...It thinks you probably taste terrible."
"...It said you probably couldn't even cast wind strike."
This was the first non-members Summoning Familiar and (at the time) the only familiar that could be understood at level 1. It has since been followed by the Snow imps in the Christmas 2008 or Christmas 2009 events and the squirrels from the 2010 Easter event.
The comment "This is not the chocatrice you are looking for", could be a reference to the quote from Star Wars Episode IV: A New Hope, when Obi-Wan Kenobi used a Jedi mind trick to pass a group of Stormtroopers by saying "These are not the droids you are looking for".
The chocatrice is a chocolate version of a cockatrice, as mentioned by the Easter Bunny.
The chocatrice is now a main NPC in the game for the Easter 2012 Event along with the Evil Chicken.
The Chocatrice has not been updated since its release, as such its graphics are considerably inferior to most parts of the game; it lacks any form of texture.
The lack of texture on the model could however be due to the fact that chocolate itself has little texture; which would explain the Chocotrice's smooth and dull appearance.