A chinchompa is an explosive Ranged weapon that can be obtained by box trapping a normal chinchompa. They are explosive missiles that require 45 Ranged.
When used, they have an area damage effect, hitting all enemies in a 3x3 area centred on the enemy being targeted. They cannot be picked up again from the ground after being thrown and Ava's devices (attractor, accumulator, alerter) do not return them. Red chinchompas still multi-target when using abilities and up until an update some time in 2015, weren't used up by abilities. Inherently multi-target abilities (such as Ricochet and Bombardment) are unaffected. While Unload is a multi-hitting ability (it hits all targets standing on the same square), it will deal area damage with chinchompas. Sacrifice will deal area damage, but would only heal according to the damage taken by the main target. Damage over time effects will be applied to all targets initially in the area. Bash will deal area damage, but you still need to be in melee distance. Tuska's Wrath will deal full damage to all targets hit. Shadow Tendrils seems to hit a single random target in the 3x3 area instead of the original target when used with chinchompas. Onslaught will drain adrenaline for every target hit, and when it runs out, causes the user to take 50% current health damage for every target hit as well, killing them instantly.
They are also used as a tertiary component for summoning a Giant chinchompa, and it is one of the few ingredients used in Summoning that stacks. 20 chinchompas is also one of the ingredients to create a divine box trap.
Players may also receive chinchompas from opening a box of summoning ingredients, a possible reward from the Familiarisation Distraction and Diversion.
Combat Stats
Requirements
45
Class
Slot
Ranged
Tier
45
Weapons
Main
Off
Damage
551
-
Accuracy
732
-
Style
Thrown
Range
9
Speed

Fast (3.0s)

Attributes
Damage reduction
Armour
0
PvM:

0%

PvP:

0%

Life points
0
Style bonuses
Prayer
0

0

0

0

[FAQ] • [doc]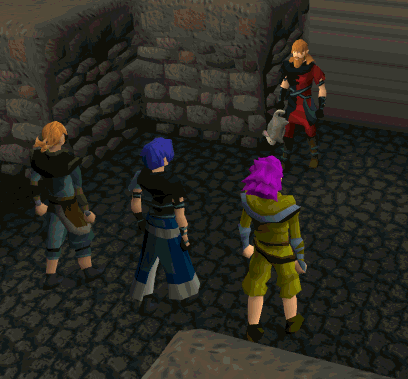 Drop sources
Edit
This list was created dynamically. For help, see the FAQ.
To force an update of this list, click here.
For an exhaustive list of all known sources for this item, see here.
If attempting to release more than four chinchompas a confirmation message will pop up.
When using abilities with chinchompas, red chinchompas can be seen flying from the main target to other targets.
If a player attempts to cast analyse or disassemble on this item, they will get the message

You monster! You can't disassemble a living thing.
Chakram
Chinchompas
 Chinchompa
 Red chinchompa
 Mechanised chinchompa
Darts
Javelins
Throwing axes
Throwing knives
Other
 Holy water
 Bolas
Ad blocker interference detected!
Wikia is a free-to-use site that makes money from advertising. We have a modified experience for viewers using ad blockers

Wikia is not accessible if you've made further modifications. Remove the custom ad blocker rule(s) and the page will load as expected.