Charm sprite
Discuss

46
22,485pages
on this wiki
Charm sprite
Level
72
Experience

130/200/400

Location
Southwest of the Tree Gnome Stronghold
Trap
Yaktwee stick and Sprite lure
Preferred bait
None
Retaliation
No
Loot
Gold charm slice, Green charm slice, Crimson charm slice, Blue charm slice
Examine
A projection from a Summoning charm, also called a charm sprite.
[view] • [talk]
Charm sprites are fast flying creatures that can be hunted with a Yaktwee stick and Sprite lure.
There are 3 different versions of Charm Sprites:
Gleaelg (130 experience), yellow smoke trail
Tranart (200 experience), orange smoke trail
Slithtils (400 experience), purple smoke trail
When you reveal the charm sprites, one, two, or three will appear. A Gleaelg will always appear first; if two charm sprites appear, then it will be both a Gleaelg and Tranart, and if three appear, it will be one of each charm sprite. It is not hard to catch all three if you have quick reactions.
On the 100th, 1,000th and 10,000th capture of each type of sprite you will be notified in the chatbox and it will appear on your adventurer's log (counts separate for each type of sprite). There is only a reward for the 1,000th capture; after you've caught 1,000 charm sprites you can upgrade your yaktwee stick to an enhanced yaktwee stick. This grants you a 5% xp boost in ALL hunter activities in which you can wield the stick, and the more rare charm sprites will spawn more often.
Hunter level
Edit
Requires level 72 in the

Hunter skill to be caught (Boosts can't be used).
Habitat(s)
Edit
South of Tree Gnome Stronghold
Hunting the creatures
Edit
To start hunting the sprites, you must first buy a Yaktwee stick and Sprite lure from Yaktwee Swinmari Cianta who sells both items for 2000 coins each.
Target a shaking bush. The player will throw the Spirit Lure close to the bush.
Immediately target the Spirit Lure you just threw by clicking it. This will create a minor explosion that will scare the creatures out of the bush.
Click on each of the creatures to catch them. (You don't have to wait between each one. Red sparks will come out of your Yaktwee stick to hit the creatures almost simultaneously)
In the whole area around the Cracked dolmen are Neverberry bushes spread out, which may contain the critters. You have to target a bush that is shaking (Only moving bushes contain the sprites). After throwing a spirit lure next to the bush, "zap" it with your Yaktwee stick. One to three charm sprites will appear, proceed to then zap them all (You can start zapping a new bush as soon as your lure vanishes from the ground, and for faster xp it is recommended to zap a second bush while still catching the sprites).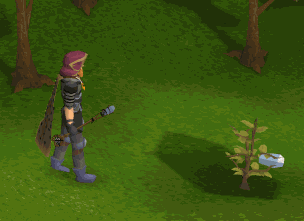 As long as you start to zap your lure (and the animation has started) before the bush stops shaking, it will still release sprites when the lure explodes.
Transportation
Edit
The fastest way to get here is by using the Spirit tree teleport to Tree Gnome Stronghold and walking south out the doors and southwest to the hunter area.
Another way to get there is to use the Book of Char teleport, then walk south-east. This requires The Firemaker's Curse quest and only works once a day.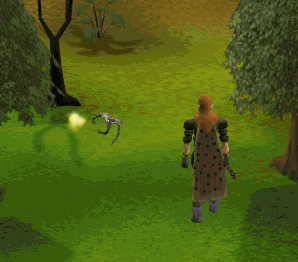 When looting charm sprites, you will always receive one of the following:
There is an (estimated) 7% chance of receiving a mystical charm slice in addition to one of the standard slices, which works out at 30-55 an hour if you're hunting efficiently.
Crimson charm slices are the most common and players can receive upwards of 200-240 an hour; with an hourly rate of approximately 120-170 blue slices, 85-100 green slices and 30-55 gold slices.
5 charm slices can be combined together to form a charm. This is a one-click action which will combine all your slices of a particular colour into its respective charm. Mystical charm slices function as wild cards and can be used to finish a charm if you don't have enough charm slices of that type (i.e. you can combine 3 blue charm slices with 2 mystical charm slices to create a blue charm), but can also be combined together to form any coloured charm of the player's choice. When combining coloured slices together, you will be asked if you wish to use mystical charm slices in order to complete any unfinished charms. Accepting this offer will only use the 1-4 mystical charm slices required.
It is recommended to use mystical slices to make or finish off blue charms, as blue charms offer the most summoning experience (with the exception of the crimson charm talon beast pouch).
The hourly rate of charms is comparable to waterfiends, although with half the rate of red charms in exchange for approximately eight times as many blue charms and three times as many green charms. This high rate of charms, coupled with the relative simplicity of training hunter in the area--particularly given there is no competition between players for resources--and an hourly rate of around 80-100k hunter experience makes charm hunting a very good training activity.
Sprites
Charm slices
Miscellaneous

Yaktwee Swinmari Cianta • Yaktwee stick • Enhanced yaktwee stick • Sprite lure • Sprite lure bag