Chaos Giant
Discuss

8
27,294pages on
this wiki
Chaos Giant
Release date
2 October 2013 (Update)
Members?
Yes
Combat level
126
XP per kill
3,574.8 (and 1,179.6 experience)
Always drops
Big bones
Examine text
A last product of the Red Axe's experiments.
Slayer info
Slayer level
1
Slayer XP
929
Assigned by
Kuradal
Category
Giants

Combat info
LP
Max hit
22,500
353
Attack
Defence
Ranged
Magic
1
90
90
1
Immune to
Poison?
Stun?
Deflect?
No
No
No
Attack Speed

Speed 5 (Interval: 3.0 seconds)

Aggressive?
Poisonous?
Yes
No
Attack style
Weakness
Ranged
Stab
[view]
The Chaos Giant is a dangerous entity created by the Red Axe. It looks like a regular giant, except its left arm is extremely large and spined, its right arm has made place for three smaller arms wielding Dragon throwing axes, and it has some sort of chaos device covering its head and neck. It is known for dropping the axes it uses in battle.
They can be found in a cave at the end of the Barendir Caves and are in a small, packed room. They can only be fought after Birthright of the Dwarves is completed.
The cave contains multiple level 126 aggressive Chaos giants that can deal rapid and accurate ranged damage. High combat levels and some form of ranged protection are advised. Using the crystals/obstacles to safe spot while killing these may be useful and helps avoid many of the incoming attacks from the other chaos giants.
100% drops
Edit
Herbs & Seeds
Edit
Runes & Resources
Edit
Weapons & Armour
Edit
Rare Drop Table
Edit
Universal drops
Edit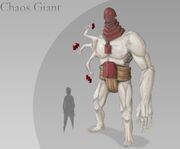 Upon release, killing these would count towards fire giant slayer tasks. This was fixed in a silent patch within a week of release.
This is the first player-designed monster in Runescape.
On 19 November 2013 they received an overhaul to their drop table, removing most of the "junk" and replacing it with better items.