The Chaos Tunnels resource dungeon is a resource dungeon found in the black demon room of the Chaos Tunnels. To enter, a Dungeoneering level of 70 and at least partial completion of The Hunt for Surok is required. Inside there are a total of 9 black demons, with one secluded on an unreachable platform on the right of the entrance. Players will be granted 9,600 Dungeoneering experience upon first entrance to the dungeon.
Getting there
Edit
The quickest route to reach the black demon room is to enter from the rift north of the Monastery which leads to the gargoyles. From there players should head for the larger of the two mummy rooms which leads on into a Monk of Zamorak room, then head past the dust devils (be careful not to misclick and attack them without a facemask or slayer helmet), and finally to the black demon room.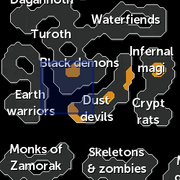 Ad blocker interference detected!
Wikia is a free-to-use site that makes money from advertising. We have a modified experience for viewers using ad blockers

Wikia is not accessible if you've made further modifications. Remove the custom ad blocker rule(s) and the page will load as expected.