This article is about the hut in the Wilderness. For other uses, see
Chaos Temple
.
The Chaos Temple is a structure in Level 38 Wilderness. It contains a chaos altar where players can recharge their Prayer. The hut has two levels, a ground floor containing the altar and a upper, outside ledge or balcony where four Elite Black Knights patrol. There are no stairs or other direct connection between the two levels. The balcony can be accessed via Lucien's camp to the west, although this is not possible until completing a large portion of the Grandmaster quest While Guthix Sleeps. This area is also often used for some coordinate clue scrolls which lead to right behind the altar.
Rock formation
Edit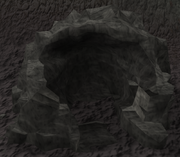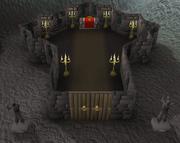 South of the altar is a rock formation which appears to be a set of stairs. Lucien emerges from this during the While Guthix Sleeps quest, and then proceeds to summon an army of Undead heroes. Thus, it likely connects to Lucien's camp, although players can not enter it.
Ad blocker interference detected!
Wikia is a free-to-use site that makes money from advertising. We have a modified experience for viewers using ad blockers

Wikia is not accessible if you've made further modifications. Remove the custom ad blocker rule(s) and the page will load as expected.