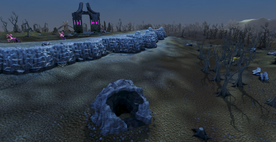 The Chaos Ridge is an area located in level 30 Wilderness, where level 47 Chaos Dwarves and level 98 Abyssal demons can be found roaming around. These Abyssal demons are the only ones that may be killed on a contract for Erskine for Slayer experience. Since this area is located in the Wilderness, other players within a certain level range can attack and kill you here.
It is found directly north of the Bandit Camp and Dark Warriors' Fortress, adjacent to the north entrance of Forinthry dungeon, and south of one of the Wilderness obelisks.
Ad blocker interference detected!
Wikia is a free-to-use site that makes money from advertising. We have a modified experience for viewers using ad blockers

Wikia is not accessible if you've made further modifications. Remove the custom ad blocker rule(s) and the page will load as expected.