Chamber guardian
Discuss

0
22,492pages
on this wiki
The Chamber guardian is found in the small cave section of the Mage Arena. He operates a store that sells god staves for 80,000 coins. To reach him, players need to jump into the sparkling pool.
After players have completed the Mage Arena activity, they are rewarded with either a Saradomin staff, Guthix staff or Zamorak staff by the chamber guardian, depending on which god cape players chose.
Note: He does not buy god staves back from players.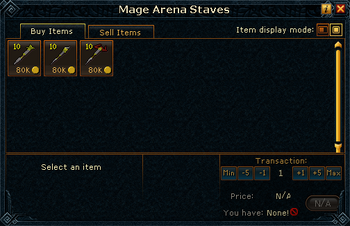 Even though his examine suggests that he spends all of his time inside the chamber, he still has a much healthier and more tanned skin tone than others, such as the inhabitants of Morytania
He may be a reference to the Chamber Guardian from Indiana Jones and the Holy Grail.