Cauldron Maul
Release date
28 October 2015 (Update)
Members
No
Slot
2h weapon
Equipment
Melee
Recolourable
No
This cosmetic will not display
in PvP-enabled areas.
[view] • [talk]
The Cauldron Maul is a maul weapon override which can be redeemed with 300 candy corn, obtained from Treasure Hunter between 29 October and 4 November 2015.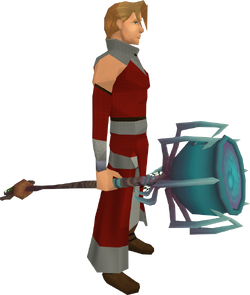 NPCs
Items
Locations
Music
Related
Ad blocker interference detected!
Wikia is a free-to-use site that makes money from advertising. We have a modified experience for viewers using ad blockers

Wikia is not accessible if you've made further modifications. Remove the custom ad blocker rule(s) and the page will load as expected.