Catspeak amulet
Discuss

6
25,235pages
on this wiki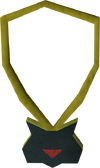 A Catspeak amulet allows a player to talk with cats. It is obtained through Icthlarin's Little Helper, and is used in Rat Catchers, A Tail of Two Cats and Smoking Kills. During A Tail of Two Cats, the amulet is enchanted and used to find Bob the Jagex Cat.
After it was first released, a player could only have one Catspeak amulet at a time. Due to an update, however, you can now have as many as you like. Simply use the drop trick to receive more than one.
To receive more than one, (or to regain it once lost), speak to the Sphinx in Sophanem. To do this you MUST have a Cat or Kitten following you.  If the Sphinx will not talk to you about the Catspeak amulet, then it is possible you have combined yours with your Cramulet - so you will need to get your Cramulet and do one of the following: either return to the Sphinx and use the drop trick to get her to give you a Catspeak Amulet or disassemle your Cramulet it to regain its parts (including your Catspeak amulet).
Combat Stats

Skill requirements
Unknown edit

| Class | Slot |
| --- | --- |
| None | |

Weapons
Main
Off
Damage
-
-
Accuracy
-
-
Style
-
-
Attributes
Armour rating

0

Life bonus

0

Prayer bonus

0

Critical bonuses

0%

0%

0%

Compare item

A player wearing the Catspeak amulet

[view] • [talk]
Trivia
Evil Bob wears a similar amulet called the Amulet of manspeak, which enables cats to speak to humans. This is because cats keep humans as pets in ScapeRune, whereas it is the other way around in RuneScape.
Unstrung

 Gold •  Sapphire •  Emerald •  Ruby •  Diamond •  Dragonstone •  Onyx

Standard

 Gold •  Sapphire •  Emerald •  Ruby •  Diamond •  Dragonstone •  Onyx

Enchanted

 Magic (t) •  Defence •  Nature •  Strength (t) •  Power •  Glory (t) •  Fury (or)

Translation

 Camulet •  Catspeak (e) •  Cramulet •  Ghostspeak •  Manspeak •  Monkeyspeak (unstrung)

Others

 Accuracy •  Cat training medal •  Christmas pudding •  Crone-made •  Desert(1)(2)(3)(4) •  Dragon Rider •  Farming •  Glarial's •  Gnome •  Gofannon •  Heartfreezer •  Ice •  Lunar •  Potency •  Pre-nature •  Pumpkin •  Ranging •  Salve (e) •  Saradomin's hiss •  Saradomin's murmur •  Saradomin's whisper •  Sköll •  Thingy •  Third-age •  Yin Yang