Walkthrough
Edit
Start point

North of the Tyras Camp
Member requirement
Members only
Official difficulty
Master
Length
Short (~22 minutes)
Requirements

Quests:

Items required
Items from the tool belt are not listed unless they do not work or are not automatically added.

Recommended:

Enemies to defeat
None
Fetching the materials
Edit
North of the Tyras camp, talk to the guard next to the catapult.
Talk to General Hining in Tyras camp.
Teleport to the Tirannwn lodestone.
Follow the path north-west, over the leaves trap. Hug the left hand side and pass the stick trap.
Talk to the Catapult engineer.
Talk to him again for schematics.
Click the schematics, option 3.
Talk to the engineer, he should let you read the general's note. Don't leave until he does.
Lodestone to Falador, talk to Rolad, a dwarf south of Ice Mountain.
Lodestone to Port Sarim, talk to Thaki in Port Sarim's pub.
Search the drunken sailor outside.
Wear the sailor's hat and talk to Thaki again.
Building the catapult
Edit
Return to the catapult north of the Tyras Camp and talk to the guard.
Copy the solution below. Use the big buttons to swap sides.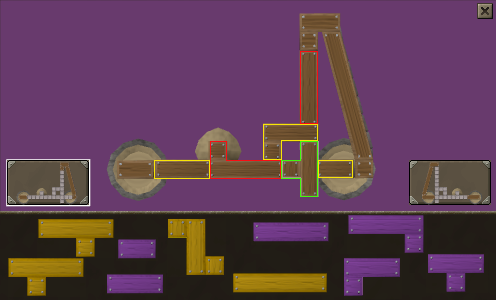 Catapult testing
Edit
Talk to the guard.

Shoot the middle rock - requires 1 blue bar of counterweight.
Left rock - 6 blue bars.
Right rock - 7 blue bars.

Talk to the guard again.
Quest complete!
Ad blocker interference detected!
Wikia is a free-to-use site that makes money from advertising. We have a modified experience for viewers using ad blockers

Wikia is not accessible if you've made further modifications. Remove the custom ad blocker rule(s) and the page will load as expected.