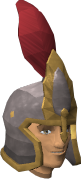 Captain of the Guard, real name Alf A. Numerius, is an NPC that resides at the Clan Camp along with the Sergeant-at-Arms. He constantly hits on his partner, but the Sergeant always rejects his advances.
The captain gives out clan cloaks to players who are in clans. He tells players that all he does is give out cloaks and make sure others do their jobs. He refers the player to the Scribe for more information on clans.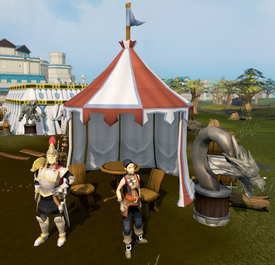 His name is a play on the word "alphanumeric".
Before the actual release of the Clan Camp, the examine text of the captain was: "This perky officer's armour is polished to a bright shine."
Ad blocker interference detected!
Wikia is a free-to-use site that makes money from advertising. We have a modified experience for viewers using ad blockers

Wikia is not accessible if you've made further modifications. Remove the custom ad blocker rule(s) and the page will load as expected.