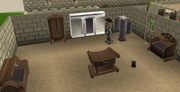 The Cape rack is a hot spot found in the costume room of a player-owned house. It is used to store capes without taking up bank space. It can store only one of each different cape at the time. Some capes cannot be stored on any cape rack.
Cape racks
Edit
Set
Cape
Hood
Master Set
Master Cape
Legends cape
Obsidian cape
Fire cape
Wilderness capes[1]
God cape
, or
Attack cape
, , or
Attack master cape
Defence cape
, , or
Defence master cape
Strength cape
, , or
Strength master cape
Constitution cape
, , or
Constitution master cape
Agility cape
, , or
Agility master cape
Cooking cape
, , or
Cooking master cape
Construction cape
, , or
Construction master cape
Crafting cape
, , or
Crafting master cape
Farming cape
, , or
Farming master cape
Firemaking cape
, , or
Firemaking master cape
Fishing cape
, , or
Fishing master cape
Fletching cape
, , or
Fletching master cape
Herblore cape
, , or
Herblore master cape
Magic cape
, , or
Magic master cape
Mining cape
, , or
Mining master cape
Prayer cape
,, or
Prayer master cape
Ranging cape
, , or
Ranged master cape
Runecrafting cape
, , or
Runecrafting master cape
Slayer cape
, , or
Slayer master cape
Smithing cape
, , or
Smithing master cape
Thieving cape
, , or
Thieving master cape
Woodcutting cape
, , or
Woodcutting master cape
Hunter cape
, , or
Hunter master cape
Quest point cape
Master quest cape
Summoning cape
, , or
Summoning master cape
Dungeoneering cape
, , or
Dungeoneering master cape
Divination cape
, , or
Divination master cape
Invention cape
, , or
Invention master cape
Spotted cape
Spottier cape
Soul Wars cape
or
Clan Cloak
Milestone cape (10)
Milestone cape (20)
Milestone cape (30)
Milestone cape (40)
Milestone cape (50)
Milestone cape (60)
Milestone cape (70)
Milestone cape (80)
Milestone cape (90)
Veteran Cape
Classic cape
Max cape
Completionist cape
or
or
Herald cape[1]
TokHaar-Kal-Ket
TokHaar-Kal-Xil
TokHaar-Kal-Mej
Castle Wars flag cape
Castle Wars kills cape
Castle Wars hobbyist cape
Castle Wars enthusiast cape
Castle Wars professional cape
Zamorak team cape
Saradomin team cape
Zamorak team hood
Saradomin team hood
Veteran cape (10 year)
Ardougne cloak 4
Spirit cape
Cloak of Seasons
Cloak of Spring
Cloak of Summer
Cloak of Autumn
Cloak of Winter
Gatherer's cape
Combatant's cape
Artisan's cape
Support cape
Clan Amlodd cape
Clan Cadarn cape
Clan Crwys cape
Clan Hefin cape
Clan Iorwerth cape
Clan Ithell cape
Clan Meilyr cape
Clan Trahaearn cape
Master clan cape
Ava's attractor
Ava's accumulator
Ava's alerter
Superior reefwalker's cape
Soul cape
Soul cape (barrows)
Soul cape (white)
Soul cape (shadow)
Soul cape (black)
Soul cape (blood)
Ad blocker interference detected!
Wikia is a free-to-use site that makes money from advertising. We have a modified experience for viewers using ad blockers

Wikia is not accessible if you've made further modifications. Remove the custom ad blocker rule(s) and the page will load as expected.