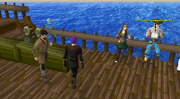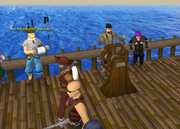 Cabin Fever is a song which can be listened to by players who've completed the Cabin Fever quest. It is performed by Bard Roberts and the Stanky Penguins. As with all of Robert's songs, it is composed of 4 limericks (AABBA rhyme system) that provide a synopsis of the quest along with a cutscene involving:
The cutscene also involves a bar, a ship's wheel, and an exploding Cannonball thrown by the player.
At the Green Ghost in Phasmatys,
Ye had offered yer help gratis.
Bill Teach were his name,
Sailing were his game,
But he lacked the apparatus!

'Twas nay a ship he was lackin',
But his crew had all gone packin'.
Bill's men had all fled,
Filled with fear 'n' dread,
Of his enemies attackin'!

With ye as his crew instated,
Bill's fears chemically abated,
Ye and he set sail,
Him certain ye'd fail,
He believed yer trip ill-fated!

When the enemy descended,
Yer performance were most splendid,
Ye pilfered their loot,
Sank their ship te boot,
Yon Adventurous defended!
Lists
NPCs

Prifddinas musicians
Menaphos musicians

Musical instruments
Bard Roberts Songs
Cabin Fever
Official Sound Tracks
Miscellaneous
Ad blocker interference detected!
Wikia is a free-to-use site that makes money from advertising. We have a modified experience for viewers using ad blockers

Wikia is not accessible if you've made further modifications. Remove the custom ad blocker rule(s) and the page will load as expected.