Buyers and Cellars
Discuss

7
22,497pages
on this wiki
This quest has a quick guide, found here, which briefly summarises the steps needed to complete the quest.
Official description
"
While some find their fortunes in forsaken lands battling dangerous monsters, the opportunistic adventurer knows that there is wealth to be had all around: in guarded vaults, trapped safes and the fattened purses of the rich and careless.

With naught but a capacious cellar, an extensive vocabulary and a dash of derring-do, rakish confidence trickster Darren Lightfinger hopes to establish an official Lumbridge Thieves' Guild where all proponents of his time-honoured profession may pursue their various business interests.

Darren has sent out feelers for assistance, promising rich rewards to the person who helps him bring his plan to fruition. It's never wise to trust a con-man, but this is too good an opportunity for a resourceful rogue to pass up.

"
 
Development team
Details
| | |
| --- | --- |
| Start point: | Speak to Darren Lightfinger in his cellar, accessed through a trap door next to a small house just north of Lumbridge furnace. |
| Member requirement: | |
| Official difficulty: | Novice |
| Length: | Very Short |
| Requirements: | Further opportunities for those skilled in Thieving, Herblore and Agility. |
| Items required: | Items from the toolbelt do not need to be listed unless that version won't work, or aren't automatically added to it. |
| Enemies to defeat: | None |
Walkthrough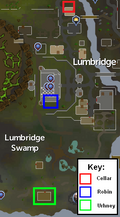 Starting off
Start this quest by speaking to Darren Lightfinger in his cellar (red circle on the map). Proceed through the dialogue until a prompt to start the quest shows up. Choose to start it. Darren will ask you to pickpocket the dummy.
Note: If you have Level 1 Thieving, you'll need to pickpocket the dummy until you reach Level 5. (Each pickpocket will give 8 experience).
Talk to Darren again. He will explain that he needs money for the Thieves' Guild. He mentions the Golden chalice and asks you to find Chief Thief Robin for further instructions (blue circle on the map).
Note: If players have at least 62 Thieving, they can ask Darren Lightfinger to pickpocket the training dummy again for an additional 2,000 Thieving experience. Players must pickpocket the dummy several times to get the experience.
Getting the Chalice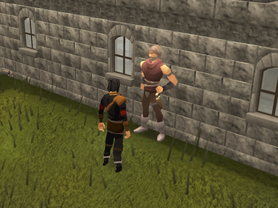 Speak to Robin on the south of the lumbridge castle (blue circle). He says that Father Urhney has retrieved the chalice from the bank, so you have to get it from his house instead.
Go to Father Urhney's house in Lumbridge Swamp (green circle). Ask him about the chalice. He says that he won't let you touch it.
Go back to Robin and he will give you a tinderbox to make a fire under one of the windows of Father Urhney. You do not need to report back to Robin, light the fire outside Father Urhney's window (green circle). Note: If you do not have logs, get a free Bronze Hatchet from Bob's Axes on your way to the swamp and cut down a swamp tree when you get there. Otherwise you can get some logs from the top level of the Lumbridge castle.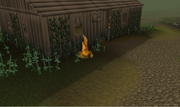 Light a fire outside any of his open windows, then talk to Father Urhney and mention the chalice. Then use the option: "Fire! Fire!". Quickly pickpocket him to get a complex key.
Note: If he says, "Accursed kids, light a fire under my window? I'll teach them if I find them..." you are too late. Light the fire again if it went out and use the "Fire! Fire" option again.
You can also get someone else to light the fire for you, you will always see the "Fire! Fire!" option when a fire is lit under the window.
Finishing up
Open the display case in Father Urhney's house by using the key on it. You get the chalice.
Give the chalice to Darren (use the Chalice on him, don't talk to him). He will recognise you as an official guild member.
Congratulations, Quest Complete!
Rewards
If players have at least 62 Thieving, ask Darren Lightfinger to let you try pickpocketing the training dummy again for an additional 2,000 experience.
2 extra spins on the Squeal of Fortune
Music
Capers
After completing the quest, you gain the ability to expand the Thieves' guild by completing the Capers miniquest. There are a total of three, all requiring different levels. They are:
Trivia
When you speak to Chief Thief Robin outside lumbridge castle, he says "the purple owl croaks at dawn." This is a parody of the normal term "the crow fly's at midnight."
On the day of release, the quest was not released with the original system update, a second update about 20 minutes later fixed this.
Upon completion of the quest, your Adventurer's Log will say "With stealth and misdirection I secured the funds to get the Thieves' Guild of Lumbridge up and running."
On the day of release, the spoiler in the knowledge base was concealed by "He may not be the most subtle of rogues, but Darren Lightfinger knows how to keep a secret. He's staying tight-lipped about rewards for the time being."
If you click on the quest in an adventurer's log, you will be sent to a page in the knowledge base called "Humble roots", which doesn't exist. This could be an earlier name of the quest, a serious typo, or the name of a yet-to-be-released quest. This has since been fixed.
When exiting the cellar, the building and other buildings associated with this quest have a cyan-coloured box around them when the quest is set as your objective. This effect is toggled off if you clear the objective and can be toggled back on by setting it as your objective again. This is the first time the box has been used for a member's only quest.
There is a glitch when you ask Darren Lightfinger to try the test dummy after picking it, telling him "Let's get down to business" will have him explain you still need to steal the chalice, even after the quest and all capers are accomplished. This has also since been fixed.
If another player has a fire lit outside, you don't have to use logs, just grab his gloves and then say "nice chalice" and "fire! fire!", and you will be able to steal the key. On the day the quest was released, a large amount of fires were already going outside the house thus many players could skip the entire log option.
With the release of this quest players no longer needed to have completed all quests to earn the Helmet of Trials.

The quest overview option appearing first.

The name is a pun on "Buyers and Sellers".
There is an Indiana Jones reference after you bring the chalice back to Darren. He says, "I knew I had chosen wisely when I recruited you." In Indiana Jones, when Indiana picks the correct grail (a chalice), the knight commends him, saying, "you have chosen wisely."
Darren Lightfinger says he wishes he could have convinced Ozan to join the Thieves' Guild at the start of this quest
At the beginning of the quest when practicing on dummies, Darren will give tips such as: "Remember: loose fingers, tight wrists!" and "Calm but quick it, that's the ticket."
Also while training on the dummy, Darren Lightfinger will say:
Main quest

Buyers and Cellars

Capers