Brother Cedric is a rather drunken monk aided during the Monk's Friend quest.
He is found standing next to his broken cart south of the Ardougne Zoo, just north of the Kandarin Monastery.
During the quest, the player must obtain the wine needed for the party of Brother Omad from him. To sober him up, the player must give him a Jug of water. Afterwards, he needs Logs to repair his cart before going to the party.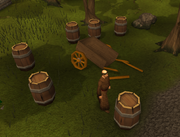 High Priest
Abbot
 Langley
 Benita
Father
Brother
Sister
Other
† denotes that a priest or priestess is deceased, ‡ denotes that a priest or priestess is no longer a Saradominist
Ad blocker interference detected!
Wikia is a free-to-use site that makes money from advertising. We have a modified experience for viewers using ad blockers

Wikia is not accessible if you've made further modifications. Remove the custom ad blocker rule(s) and the page will load as expected.