Bronze bolts (unf)
Release
31 July 2006 (Update)
Members
No
Quest item
No
Tradeable
Yes
Equipable
No
Stackable
Yes
Disassembly
Yes
Value
1 coin
High alch
0 coins
Low alch
0 coins
Destroy
Drop
On death
Reclaimable
Reclaim: 1
Sacrifice: 4
Exchange

13

coins (info)
Buy limit
10,000
Weight
0 kg
Examine
Unfeathered bronze crossbow bolts. Used in Fletching (9).
[FAQ] • [doc]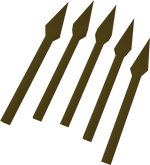 Unfinished bronze bolts are bronze bolts before feathers are added. 10 unfinished bronze bolts can be smithed from a bronze bar, granting 12.5 Smithing experience and requiring a Smithing level of 3.
To finish unfinished bronze bolts, a player must add feathers. Attaching feathers to each bolt requires a Fletching level of 9 and 1 feather, granting 0.5 Fletching experience per bolt.
Bronze bolts (unf) ×10
-
12.5 XP
-
130
Requirements
Smithing level
3
Members only
No
Materials
Item
Quantity
Price
Total
Bronze bar
1
224
224
Disassembly
Edit
Arrows
Bolts
Darts
Ad blocker interference detected!
Wikia is a free-to-use site that makes money from advertising. We have a modified experience for viewers using ad blockers

Wikia is not accessible if you've made further modifications. Remove the custom ad blocker rule(s) and the page will load as expected.