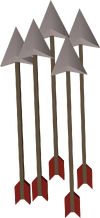 Broad arrows can be purchased from any slayer master. They are the only arrows that can be used to slay Turoths and Kurasks. They require 55 Slayer and 50 Ranged to fire. They require at least a standard magic bow to fire, and are equivalent in damage to god arrows. Due to their cheap price and higher damage than rune arrows, they are commonly used in their place on members' worlds. This is counterbalanced, however, by their inability to be traded, their Slayer level requirement, and the existence of better arrows (dragon arrows) or bows that do not require ammo, such as the crystal and Zaryte bow.
After the Smoking Kills quest, players can spend 300 slayer reward points to learn how to fletch broad arrows. This requires 52 Fletching. Players lacking these levels can purchase up to 3,000 at a time for 90 coins each, from the Slayer equipment shop, or spend 35 Slayer reward points to buy 250 broad arrows.
Combat Stats
Skill requirements
50 55
Class
Slot
Ranged
Weapons
Main
Off
Damage
528
-
Accuracy
-
-
Style
Arrows
Attributes
Armour
0
Life points
0
Prayer
0
Strength bonuses

0

0

0

[view] • [talk]
Making broad arrows
Edit
Broad arrowheads (found from Kurask drops or slayer masters) are attached to regular headless arrows to make broad arrows. Making broad arrows yields 15 Fletching experience per arrow, or 225 experience per set of 15. One can make up to 45,000 broad arrows per hour which is equal to 675,000 xp.
Making broad arrows costs 9 coins per experience.
Dropping monsters
Edit