Brimhaven Dungeon resource dungeon
Discuss

3
22,431pages
on this wiki
The Brimhaven resource dungeon was released on 19 July 2010. This resource dungeon has a Dungeoneering requirement of 80 to enter and the entrance is on the west wall of the iron and steel dragon area. You receive 12,800 Dungeoneering experience the first time you enter.
Getting there
Edit
Players will need 875 coins to enter the Brimhaven Dungeon, unless they have completed the hard Karamja Diary, which will grant free access. A hatchet is required to chop through the roots along the way, and dragonfire protection is strongly advised because the entrance to the resource dungeon is guarded by Steel and Iron dragons. This place is much better if you're assigned a specific slayer task, such as Steel Dragons, since there is 1 extra dragon inside, and if not for a slayer task, you can avoid having to run into the Black Demons or deeper inside. Also, you can also use the Home Teleport spell to avoid cutting your way out or using an emergency teleport.
The entrance is on the west wall of the Steel and Iron dragon room.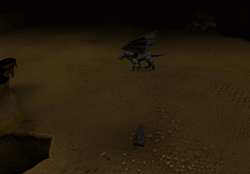 Be warned that a Steel Dragon is right outside the entrance.
The resource dungeon contains iron dragons, steel dragons, a hammer spawn, and 4 anvils, which allows players to smith the bars dropped by the dragons into stackable equipment. This dungeon is largely reserved for high level players due to its requirement of 80 Dungeoneering to access. One anvil is placed in both the Iron and Steel Dragons, one is placed right between them (has the hammer spawn), and one near the entrance if you want to kill them outside.
The dragons in this dungeon appear to be spaced farther apart than in the main dungeon which potentially slows down killing speed. However, with the crowding at Metal Dragons following the release of Elite Clue scrolls, this dungeon can be a convenient, non competitive place for players hunting these clues. However, this place is usually secluded, so if you die here, there is a chance that you will not be able to get your items back. The anvils near the dragons shouldn't be used until they become non-aggressive towards you, and its best not to use the secluded ones or you'll keep making them aggressive to you.
If you're going to kill iron dragons here, they are on the east side. Steels and the entrance are on the west side. One Steel dragon is near the entrance, so you might get attacked by it.