The Bridge of Hope is a bridge located inside of Tolna's rift, the setting of which the quest A Soul's Bane takes place. It only appears after the player has killed all five of the Hopeless creatures in the room. The bridge leads to the boss room which contains Tolna.
It may be a reference to the real Bridge of Hope in Minnesota, which was named in honour of Jacob Wetterling and other missing children.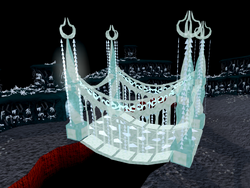 Ad blocker interference detected!
Wikia is a free-to-use site that makes money from advertising. We have a modified experience for viewers using ad blockers

Wikia is not accessible if you've made further modifications. Remove the custom ad blocker rule(s) and the page will load as expected.