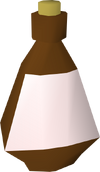 Brandy is an alcoholic drink which can be purchased at the Jossik's store in the Lighthouse, at the Tree Gnome Stronghold in Heckel Funch's store or at the Asp & Snake Bar at Pollnivneach. It an ingredient used to make certain gnome cocktails. It heals 50 life points and decreases a player's Attack by 3-4 levels when drunk. Unlike the other types of alcoholic drinks bought from stores, brandy is shaped differently.
Store locations
Edit
This list was created dynamically. For help, see the FAQ.
To force an update of this list, click here.
Disassembly
Edit
]