A Box of Valentine chocolates could be obtained by purchasing a chocolate with 50 Valentine love notes. Along with the box, you also received a random chocolate which could be added to the box. After adding two chocolates of each type, you received [Name] the Scrumptious and [Name] the Forlorn titles, along with five small XP lamps that gave experience to your five lowest skills (determined by experience). After adding a chocolate in the box, you could not take them out.
Once completed, it could not be done again; attempting to do so gave the message: "You have already completed this Valentine's challenge."
There are six different chocolates:
The Box of Valentine chocolates could also be obtained by using the 'box' option on individual chocolates that could also be obtained from summer loot piñatas during the 2015 Summer Beach Party.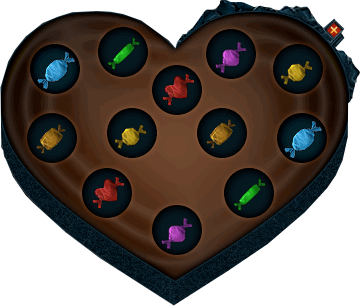 Drop sources
Edit
This list was created dynamically. For help, see the FAQ.
To force an update of this list, click here.
For an exhaustive list of all known sources for this item, see here.
Valentine's Day Promotion 2014

Items
Rewards

| | |
| --- | --- |
| Emotes and Equipment | |
| Chocolates | |
| Titles | |
Ad blocker interference detected!
Wikia is a free-to-use site that makes money from advertising. We have a modified experience for viewers using ad blockers

Wikia is not accessible if you've made further modifications. Remove the custom ad blocker rule(s) and the page will load as expected.