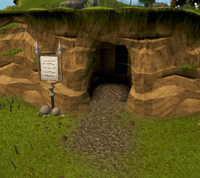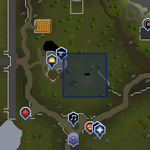 The Borehole is a cave located north of Falador. It is where Vorago can be fought.
After jumping across the three floating rock gaps and running a short distance, a waterfall can be seen along with Vorago. To enter the graveyard, right click the entrance to the cave.
The dungeon was released before Vorago, as a teaser. Players could enter the dungeon, and it would shake 3 ticks after going in. After 10–15 ticks the player would be thrown out by a mysterious force.
Asgarnia
Kandarin
Karamja
Kharidian Desert
Misthalin
Morytania
Fremennik Province
Feldip Hills
Wilderness
Troll Country & The North
Keldagrim
Tirannwn & Galarpos
Others
Ad blocker interference detected!
Wikia is a free-to-use site that makes money from advertising. We have a modified experience for viewers using ad blockers

Wikia is not accessible if you've made further modifications. Remove the custom ad blocker rule(s) and the page will load as expected.