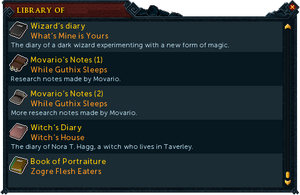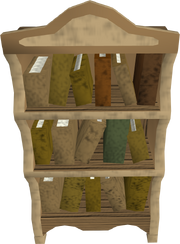 Bookcases are built in a player-owned house using the Construction skill. Bookcases can be built in the Parlour, Quest Hall, or Study of the house. Bookcases can also be found in various houses in RuneScape.
There are 3 types of bookcases which can be built in the bookcase hotspot:
All of the bookcases will contain the same books. Bookcases have the ability to save bank space, because they automatically contain most books from previously completed quests and other miscellaneous books found in RuneScape. Players do not need to fetch these books from the bank to store them in their bookcase(s).
Even if you obtain a book, a quest might have to be completed in order to find the book in your bookcase. For example, The great divide requires the completion of Mourning's End Part I to be stored.
Ad blocker interference detected!
Wikia is a free-to-use site that makes money from advertising. We have a modified experience for viewers using ad blockers

Wikia is not accessible if you've made further modifications. Remove the custom ad blocker rule(s) and the page will load as expected.