Boogie bow
Discuss

0
22,529pages
on this wiki

The boogie bow was released on 19 July 2012 to celebrate the creation of 200 million RuneScape accounts. It was obtainable from Hey Presto the Party Plane wizard and is used to slay the Party Demon. It can be stored in a toy box of a player-owned house's costume room.
It requires no ammunition to fire, can be used to kill other NPCs, and has an accuracy rating of 1. It is able to hit up to 1,000,000 on the Party Demons, however it does little damage to other NPCs.
The bow is held at an angle similar to the barbed bow and fires two arrows from its dual bowstrings, in a similar fashion to the dark bow special attack. The arrows appear to be on fire and spiral as they approach their target.
The swift gloves work with the Boogie bow, but not on the Party Demons.
Unlike the Chargebow, this weapon may be used in PvP areas.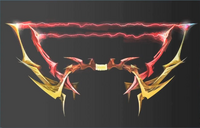 Combat Stats

| Class | Slot |
| --- | --- |
| Ranged | |

Weapons
Main
Off
Damage
-
-
Accuracy
1
-
Type
Arrow
-
Attributes
Armour rating

0

Life bonus

+0

Prayer bonus

0

Critical bonuses

0%

0%

0%

Attack speed

Fast

Interval: 3.0 seconds

Compare item

A player wielding a boogie bow

[view] • [talk]
Upon release, the bow wasn't included in the toy box interface, and was impossible to reclaim from Diango.
Though the firing animation shows the bow firing two arrows, there is only one hitsplat.
Upon the release the boogie bow was available to F2P. An update on 24 July 2012 made it a members-only item.
Currently there is a glitch on the bow where the arrows appear slightly behind your character when firing. This glitch has yet to be fixed.
When the Evolution of Combat beta was first released, it was called the "Extra-planar bow", likely because that was the name it had in development.
Shortbows

Shortbow (u) • Oak shortbow (u) • Willow shortbow (u) • Maple shortbow (u) • Yew shortbow (u) • Magic shortbow (u) • Quickbow

Shieldbows

Shieldbow (u) • Oak shieldbow (u) • Willow shieldbow (u) • Maple shieldbow (u) (sighted)• Yew shieldbow (u)• Magic shieldbow (u) (sighted)

Composite bows

Willow composite • Ogre comp • Yew composite • Magic composite

Special bows

Training • Chargebow • Kayle's chargebow • Barbed bow • Sacred clay • Ogre • Ogre comp • Gravite shortbow • Seercull • Dark • Crystal • Zaryte

Crossbows

Bronze crossbow • Blurite crossbow • Iron crossbow • Steel crossbow • Black crossbow • Mith crossbow • Adamant crossbow • Rune crossbow • Dragon crossbow • Armadyl crossbow • Chaotic crossbow•Royal crossbow

Javelins

Bronze javelin • Iron javelin • Steel javelin • Mithril javelin • Adamant javelin • Rune javelin

Throwing axes

Bronze throwing axe • Iron throwing axe • Steel throwing axe • Mithril throwing axe • Adamant throwing axe • Rune throwing axe

Other items

Cannon • Snowball • Chinchompa • Red chinchompa • Holy water • Hand cannon • Arrows • Sagaie • Bolas
Vanity items and membership thanks gifts

Vanity items

| | |
| --- | --- |
| 2010 | Flagstaff of festivities |
| 2011 | Ornate katana • Runefest 2011 hood • Green skin • Golden scythe • Turkey hat • Ice mask |
| 2012 | Barbed bow • Flaming skull • Golden katana • Scarecrow mask • Lightning staff 1 2 3 4 • Bloodpouncer • Paladin Outfit |
| 2013 | |

Membership thanks gifts

| | |
| --- | --- |
| 2011 | |
| 2012 | Mad necklace • Tropical Islander outfit • Promissory note • Fate cards • Soul phylactery • Deathtouched dart • Emergency healing box • Portable deposit box • Festive aura |
| 2013 | |

Other gifts

| | |
| --- | --- |
| 2010 | Golden cracker |
| 2011 | Chrome goggles |
| 2012 | Cape of Validation • Boogie bow • 200m glasses • Beta scientist outfit • Book of Faces |