Double XP Weekends are events where players receive twice as much experience from most training activities. Double XP Weekends usually run twice a year, in February and September, beginning on a Friday and ending on the following Monday.
Double XP Weekends were preceded by Bonus XP Weekends. During Bonus XP Weekends players received a variable amount of bonus experience that decreased with the duration for which they were logged in. The decaying bonus experience boost was replaced by a constant double experience boost in the October 2012 Double XP Weekend; all subsequent weekends have been Double XP Weekends.
Limitations
Edit
The Invention skill works differently than other skills, in the following ways[1]:
Item experience is gained at 150% of the normal rate (1.5x normal experience)
Discovering blueprints and creating items on an inventor's workbench gives 150% of the normal experience (1.5x)
Protean cogs give 150% of the normal experience (1.5x)
Disassembling typical items (not "levellable" equipment, see below) will give 150% of the normal experience (1.5x)
Disassembling and siphoning equipment (augmented equipment, Fishing rod-o-matic, etc.) does not give any bonus experience
The following actions do not provide any bonus experience:
Any experience earned through the Assist System
Items/locations that already give bonus experience, including:
Experience rewards from activities including:
Anything which allows points to be exchanged for experience, including:
Ironman Mode players are also disallowed from participating.
Past limitations
Edit
Preparations
Edit
After the announcement of an upcoming Double XP Weekend, players often prepare their accounts in order to maximise efficiency and experience gains. Prior to the start of the event, players may engage in the following activities:
Stocking up on large amounts of skilling resources through the Grand Exchange (e.g. logs and raw fish to train Firemaking and Cooking respectively).
Playing Treasure Hunter for a chance to obtain protean items and sources of bonus experience.
Buying portable skilling stations.
Collecting divine locations, as both resources and experience can be gained at a faster rate than traditional methods, at the cost of having a daily limit of how many items can be obtained from these locations. It may also be a good idea to stock up on vis wax, which can be used to extend the daily limit by up to 100%.
Strategically training at certain locations and worlds to maximise efficiency. Skilling at crowded locations where portables are often deployed, stacked, and shared by many other players can greatly increase experience gains. In worlds where many players skill at the same time, there's also a higher chance of others popping pulse cores which will give one between 2 and 10% bonus experience. Alternatively, some skills such as Hunter and Slayer may hinge on the availability of a less crowded world.

Players often train at the bank in Burthorpe or at the Combat Academy in Lumbridge, where one can expect other players to release portables and divine locations.
In addition to experience, training in Menaphos allows players to gain reputation.
Prifddinas offers many skilling options suitable for high-levelled players.

Engaging in money-making activities to be able to afford resources and other desired items; this is particularly helpful when planning on training expensive skills like Herblore and Construction.
Upgrading weapons and combat equipment to maximise experience gains when training combat skills.
Joining skilling-based clans or clans with one or more avatars. These provide 3-6% bonus experience when summoned on the same world.
Some players also choose to invest money into the market, taking advantage of the fluctuating prices of skilling supplies.
Experience calculator
Edit
Calculator: Double XP Weekend XP

template=Bonus XP Weekend/Double XP Weekend XP 2015
form=bxpwin
result=bxpwout
param = base|Base XP|1|number|
param = bonus|Bonus XP|No|select|No,Yes
param = wisdom|Wisdom aura|No|select|No,Yes
param = outfit|Outfit parts|0|select|0,1%,2%,3%,4%,5%,6%
param = avatar|Avatar|No|select|No,Same world,Near
param = vos|Voice of Seren|No|select|No,Yes
param = juju|Perfect juju potion|No|select|No,Yes
param = portable|Portable station|No|select|No,Yes
param = pulse|Pulse core|No|select|No,2%,4%,6%,8%,10%
param = chomp|Skillchompa|No|select|No,Yes
param = insignia|Collector's insignia|No|select|No,Uncharged,Charged
param = focus|Summoning focus|No|select|No,Yes
param = clover|Clover necklace|No|select|No,Two-leaf,Three-leaf,Four-leaf
param = imc|Imcando (e) mining|No|select|No,Yes
param = mory|Morytania legs 4 & task|No|select|No,Yes
param = glov|FoG gloves|No|select|No,Swordfish,Shark,Dragonslayer
param = raf|Refer a friend|No|select|No,Yes

Please allow the calculator to load
Please submit the form.
Previous events
Edit
February 2018
Edit
The first Double XP Weekend of 2018 started on Friday 23 February at 12:00 UTC, and ended on Monday 26 February at 12:00 UTC.[2] The experience multiplier increased to 2.2x for members and 1.25x for free players for 30 minutes each time that a £10,000 milestone was hit during the GameBlast 2018 stream, which took place for 24 hours from 12:00 UTC on 23 February.
Invention benefits from half of the experience boosts, excluding augmented item disassembly, as usual.
September 2017
Edit
The third Double XP Weekend of 2017 started on Friday 15 September at 12:00 UTC, and ended on Monday 18 September at 12:00 UTC.[3][4]
The first login during the weekend prompted a pop-up ad for Recruit a Friend and the chatbox message "Double XP Weekend is live. Go go go!". Subsequent logins prompted the message "Why not team up with a training buddy? Gains are better with friends."
Immediately following the end of the event, the second batch of updates for Invention was released, along with two weeks of +50% XP boost for blueprint discovery.[5]
The second Double XP Weekend of 2017 started on Friday 19 May at 12:00 UTC, and ended at 12:00 UTC on Monday 22 May. The timing of the weekend was down to the upcoming release of Menaphos in June.[6] It did not feature a trail off period where bonus experience could still be received for a small duration, despite this being the case the weekend before.
This Double XP weekend coincided with the Spring Fayre event, however experience gained during that event was not affected.[7]
February 2017
Edit

The first Double XP Weekend of 2017 took place from 12:00 UTC on Friday 17 February to 12:00 UTC on Monday 20 February.[8] Unlike previous Double XP weekends, an extended experience bonus continued into the following week. Up until 12:00 UTC on 27 February players continued to gain bonus experience with a decreasing multiplier until they reached a total of 1,000,000 experience gained. The boost started at 100% extra experience and decreases by 5% for every 50,000 total experience earned (including all bonus experience). Restrictions were the same as those on the Double XP Weekend itself.[9] The weekend coincided with Game Jam 2017.
Free players received a 1.2x boost instead. The trail off period did not apply for said free players.
December 2016
Edit

For the final weekend of the year, effectively 30 December to 4 January, all skilling/combat activities gave 10% more experience. Previous limitations regarding bonus experience applies.
Unlike the previous events, it was hotfixed[10] so that the following also works with the event:
Gilded altars
Goldsmith gauntlets (including superheat)
Brawling gloves
Slayer bonuses (Corruption/Sacrifice scrimshaws)
September 2016
Edit
The second Double XP Weekend of 2016 took place from 12:00 UTC on Friday 23 September to 12:00 UTC on Monday 26 September.[11] This was the first Double XP Weekend to include the Invention skill. Extra experience was awarded to items' experience gains rather than Invention experience gained, at a 50% increase.
Notes:
February 2016
Edit
The first double experience weekend of 2016 took place from 26 February to 29 February. The newly released Invention skill's experience gains were not affected by the Double XP Weekend.[12]

September 2015
Edit
The second Double XP Weekend of 2015 was from 25 September to 28 September.
February 2015
Edit
The first Double XP Weekend of 2015 ran from 20 February to 23 February.[13]
November 2014
Edit
The second Double XP Weekend of 2014 ran from 12:00 GMT on Friday 31 October to 2 November [14]. This Double XP Weekend was the first in which players' stored bonus experience would be used in combination with the Double XP Weekend's bonus; to give triple experience gains. It was also the first Double XP Weekend where a clan avatar's bonus would stack with the Double XP Weekend effect.
February 2014
Edit

A Double XP Weekend ran from 21 until 24 February 2014, starting at 12:00 UTC and ending at 14:00 UTC. This was the first Double XP Weekend where Recruit a Friend bonuses stacked with the Double XP Weekend bonus.
This event, as voted for by players, was in support of the Gameblast charity weekend, raising money for Special Effect. Alongside the Double XP Weekend, Jagex hosted a 24-hour long livestream on their official Twitch channel, starting at 1pm UTC on Friday 21 February. A donation page was set up for players to make direct donations to the charity. Players could also purchase the limited edition GameBlast tunic from Solomon's General Store and donate coins to the Well of Goodwill.
October 2012
Edit

On 11 October 2012, Jagex announced a Halloween Bonus XP Weekend that, for the first time, would available for free to play players. It was also the first Double XP Weekend: having a stable 2x experience multiplier, for members, rather than a decaying experience multiplier. Free to players gained a stable 1.2x experience bonus. Unlike previous Bonus XP Weekends the Summoning skill was not subject to a reduced multiplier and Summoning experience gains were doubled.[15] The pumpkin amulet available at this time did stack with the Double XP Weekend bonus.
March 2012
Edit
The March 2012 Bonus XP Weekend started on 16 March and ended on 19 March at 12:00 GMT, as announced in the March 2012 Behind the Scenes post. This was the final weekend to use the Bonus XP Weekend decaying experience boost: subsequent weekends were Double XP Weekends.
September 2011
Edit
The fourth Bonus XP Weekend was held from 9 to 12 September 2011, as first announced in the Save 15% on the price of membership! newspost on 24 August.
March 2011
Edit

The Bonus XP Weekend of March 2011 was held from 11 to 14 March. Experience gains from Balthazar Beauregard's Big Top Bonanza were not affected by bonus experience during this and future Bonus XP Weekends, though it had been previously.
September 2010
Edit

The second Bonus XP Weekend was held from 12:00 BST 3 September to 7 September. The Bonus XP Weekend was originally stated to run from 3 to 6 September, but it didn't actually end until 12:00 GMT on 7 September. It was similar to the first Bonus XP Weekend, but used the multiplier mechanics that were mentioned prior to the first weekend rather than those that were actually used during the Bonus XP Weekend. When logged in, players could check their bonus XP, time elapsed, and bonus modifier by hovering the mouse over the XP Counter.
When the event first started, players training Dungeoneering did not receive bonus XP, so all players' multipliers were reset to 2.7x. If a player ran out of membership during the Bonus XP Weekend at 1.1 multiplier and then they renewed their membership, the multiplier would go back to 2.7x. During this and later Bonus XP Weekends Summoning was given a flat 1.1x bonus experience multiplier, regardless of timer spent logged in.
| Game time (mins) | XP Multiplier | Average multiplier over full period |
| --- | --- | --- |
| 0-30 | x 2.7 | x 2.7 |
| 30-60 | x 2.55 | x 2.625 |
| 60-90 | x 2.4 | x 2.55 |
| 90-120 | x 2.25 | x 2.475 |
| 120-150 | x 2.1 | x 2.4 |
| 150-180 | x 2.0 | x 2.3 |
| 180-210 | x 1.9 | x 2.27 |
| 210-240 | x 1.8 | x 2.2125 |
| 240-270 | x 1.7 | x 2.155 |
| 270-300 | x 1.6 | x 2.1 |
| 300-330 | x 1.5 | x 2.04 |
| 330-360 | x 1.45 | x 1.99 |
| 360-390 | x 1.4 | x 1.95 |
| 390-420 | x 1.35 | x 1.9 |
| 420-450 | x 1.3 | x 1.86 |
| 450-480 | x 1.25 | x 1.82 |
| 480-510 | x 1.2 | x 1.79 |
| 510-540 | x 1.175 | x 1.75 |
| 540-570 | x 1.15 | x 1.725 |
| 570-600 | x 1.125 | x 1.695 |
| 600+ | x 1.1 | x 1.66* |
*As 1.1 lasts indefinitely the given average assumes only a half hour period and will decline further at a longer duration.
March 2010
Edit

The first Bonus XP Weekend started at 12:00 PM GMT on Friday 12 March and lasted until 12:07 PM GMT Monday, 15 March 2010.[16] The Bonus XP Weekend used a decaying bonus experience formula. Players began with 2.7x experience bonus which decreased for every 45 minutes that the player was logged in. After 7 hours of being logged in the player would be down to a 1.1x experience bonus which would not decrease further.
The first Bonus XP Weekend used an early version of the XP Counter to display the player's current experience multiplier and experience gains. It was located next to the minimap. During the Bonus XP Weekend no bonus experience was given in any skill while barbarian fishing.
Leading up to the Bonus XP Weekend, Jagex released an equation that gave the XP multiplier as a function of time and it was stated that the multiplier would be recalculated on every XP event, accurate to one minute. The multiplier given was
for the first 10 hours, and a constant 1.1 after that, where
is the number of hours played. This is shown in the graph on the right, which was also released with the formula.[16] This would have given an average multiplier of 1.69x over the first 10 hours of play.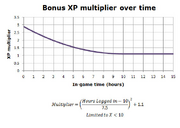 However, when the event started, players noticed that the bonus xp multiplier was lower than expected; it changed every 45 minutes rather than every 30 minutes and was always a multiple of 0.1. The modifier went down 0.2 each time (2.7, 2.5, 2.3, etc.), but went down only 0.1 after it reached 1.5 (1.5, 1.4, 1.3, etc.). This was due to intermediate rounding. In the article on Bonus XP Weekend found on the front page on the Runescape website, it was said that one's XP counter would reach 1.1x after 10 hours of gameplay. Players were disappointed to find out that it actually hit 1.1x after 7 hours of gameplay.
No Double XP Weekends occurred in 2013.
References
Edit
Clan Cups
Festivals
Competitions
Other
Double XP Weekend