Ad blocker interference detected!
Wikia is a free-to-use site that makes money from advertising. We have a modified experience for viewers using ad blockers

Wikia is not accessible if you've made further modifications. Remove the custom ad blocker rule(s) and the page will load as expected.
For the boneguard in the current version of the quest, see
Akthanakos
.
The Boneguard was an enemy encountered during the Enakhra's Lament. It was an enchanted creature, bound to guard Enakhra's Temple against its will. It attacked the player with melee, and the Crumble Undead spell had to be cast on it to defeat it, after which it would turn into a Freed Spirit and thank the player. Players could then climb over its bones.
As the spell was removed with the Evolution of Combat, the Boneguard no longer makes an appearance, but the Pile of bones it left behind is still present.
Another Boneguard appears later in the quest, which is revealed to be Akthanakos. Like the other boneguard, he was altered with the release of the Evolution of Combat. Previously, players had to use protect from melee to block his attack before he would converse with players.
| | Item | Quantity | Rarity | GE price |
| --- | --- | --- | --- | --- |
| | Big bones | 5 | Always | Not sold |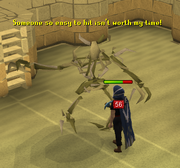 Monsters

Ghosts
Zombies
Skeletons
Revenants
Slayer monsters

| | |
| --- | --- |
| Banshees | |
| Crawling hands | |
| Others | |

Lumbridge Catacomb
Shades
Bosses

| | |
| --- | --- |
| Dungeoneering | |
| Quests | Boneguard |
| Barrows wights | |
| Others | |

Others
Mummy (Jaldraocht • Sophanem • Ullek • Champion • Warrior)
NPCs

Ghosts

| | |
| --- | --- |
| Port Phasmatys | |
| Wilderness | |
| Kharidian Desert | |
| Morytania | |
| The Curse of Zaros | |
| Others | |

Zombies

| | |
| --- | --- |
| Pirate quest series | |
| Others | |

Skeletons