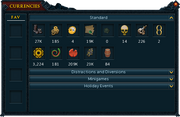 The currency pouch is a wallet for many different types of currencies, notably including bonds and Treasure Hunter promotional tokens. It can be accessed anywhere from the backpack interface. Only current members can see currencies relating to members' content.
It was originally released on 28 July 2014 as the bond pouch, until 4 April 2016 when Treasure Hunter items were added. Finally on 26 September 2016, it was expanded from microtransaction items to its current format. Before this, currencies took up slots in the inventory or bank as proper items.
Currencies
Edit
The following can be stored in the pouch:
Main items
Edit
Distractions & Diversions
Edit
Minigames
Edit
Holiday events
Edit
Discontinued
Edit
Ad blocker interference detected!
Wikia is a free-to-use site that makes money from advertising. We have a modified experience for viewers using ad blockers

Wikia is not accessible if you've made further modifications. Remove the custom ad blocker rule(s) and the page will load as expected.