Bolas are made using items gained from the Jadinko Lair. They can be made from 2 excrescence and a mutated vine, requiring 87 Fletching and giving 50 experience. They require a Ranged level of 76 to use.
Bolas can restrain their target. The effectiveness of this restraint depends on the target. They are very effective against mutated jadinko creatures. On another player, Bolas can be blocked and will hold the other player for 15 seconds. If the other player is using Protect or Deflect Missiles, the time is halved. If the player is wielding a slash weapon or have a knife in their inventory, the time would also be halved, and the two effects stack, cutting down the bind time to a minimum of 5 seconds. On NPCs across Gielinor, the Bolas generally hold them in place for only 10 seconds, but are highly accurate. Bolas are consumable weapons and are rarely retrievable; they cannot be picked up by Ava's Device. Bolas will deal no damage to an enemy; they only restrain them.
Among other places, Bolas can be used in Barrows in conjunction with salamanders to allow one to do Barrows runs effectively even when on the Lunar Spellbook.
Bolas can also be used in the God Wars Dungeon, especially on Commander Zilyana for smoother kills.
Bolas can be very useful to rangers, being the only ranged weapon to be able to hold a target. The high accuracy means that a player with high ranged could use it on another player using melee in PvP activities, then step away and safely range them.
In a PvP situation, Bolas are somewhat useless, due to the fact that if you are far enough away (11 squares) the target can move again. 11 squares might seem like a lot, but it really only gives you 3 spaces of safety versus a crossbow in rapid (7), only one space if it's in longrange (9), and it's completely useless versus a mage because all spells have a range of 10 squares; once you walk to the 11th square they can just move again.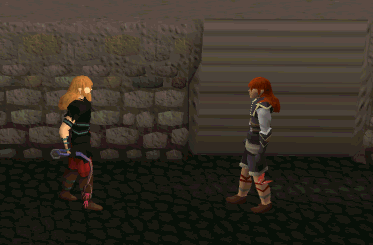 One thing that Bolas CAN be used for in PvP, is as the best method to counter freeze. The reason for this is that Bolas can be spam clicked on an opponent to freeze them the moment they run out into the open from behind an obstacle, while if one was to cast a spell, it takes two RuneScape ticks for you to cast a freezing spell, effectively making it so you have to get lucky with the timing in order to successfully cast the spell when they come out in the open briefly. With mage you could technically spam click a foe standing out in the open infinitely without casting once.
Combat Stats

| Class | Slot |
| --- | --- |
| Unknown edit | |

Weapons
Main
Off
Damage
-
-
Accuracy
-
-
Type
-
-
Attributes
Armour rating

0

Life bonus

+0

Prayer bonus

0

Critical bonuses

0%

0%

0%

Compare item

[view] • [talk]
Trivia
These are based on the real world throwing weapon of the same name. Similar to the bolas ability to restrain a target, the real world bolas are designed to entangle an animal's legs.
On the day of the release when making bolas using the Assist system, the player making the bolas would receive the experience instead of the one assisting. This has been fixed with the update discussed below.
For some reason bolas are an exceptionally slow item to make. Not even considering the time it takes to collected the untradeable component, you can only make 10 per click; not 10 sets, but 10 individual bolas. The speed of assembly is also slower than possibly any other fletch item.
After an update, if you try to make Bolas through the Assist system, you will not be able to, even though fletching is an assistable skill. The message: "You cannot use the Assist System for this part of the fletching skill." will show.
There appears to be a metallic, hexagonal ring holding the bolas, despite that no metal is used in the process of making these. Though this may simply be a knot, as in traditional bolas.
People commonly use these as a looting method. They wait in the Wilderness, till they see somebody die and teleport away to restock, they then spam click where the person is killed and get ready to throw the Bolas at the incoming looter.
Shortbows

Shortbow (u) • Oak shortbow (u) • Willow shortbow (u) • Maple shortbow (u) • Yew shortbow (u) • Magic shortbow (u) • Quickbow

Shieldbows

Shieldbow (u) • Oak shieldbow (u) • Willow shieldbow (u) • Maple shieldbow (u) (sighted)• Yew shieldbow (u)• Magic shieldbow (u) (sighted)

Composite bows

Willow composite • Ogre comp • Yew composite • Magic composite

Special bows

Training • Chargebow • Kayle's chargebow • Barbed bow • Sacred clay • Ogre • Ogre comp • Gravite shortbow • Seercull • Dark • Crystal • Zaryte

Crossbows

Bronze crossbow • Blurite crossbow • Iron crossbow • Steel crossbow • Black crossbow • Mith crossbow • Adamant crossbow • Rune crossbow • Dragon crossbow • Armadyl crossbow • Chaotic crossbow•Royal crossbow

Javelins

Bronze javelin • Iron javelin • Steel javelin • Mithril javelin • Adamant javelin • Rune javelin

Throwing axes

Bronze throwing axe • Iron throwing axe • Steel throwing axe • Mithril throwing axe • Adamant throwing axe • Rune throwing axe

Other items

Cannon • Snowball • Chinchompa • Red chinchompa • Holy water • Hand cannon • Arrows • Sagaie • Bolas