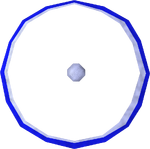 A body shield is a shield that can be made after completion of Elemental Workshop III. Level 33 Defence is required to wear it. The shield used to be one of the best off-hand items in the game for magic defence, although with the removal of individual defence bonuses against various attack styles this is no longer the case.
It can be smithed on the anvil in the Elemental Workshop with one primed body bar.
The body shield is one of the few items in game to show an animation upon being wielded.
A body shield can be used as partial protection against the breath of skeletal wyverns and wyverns.
Combat Stats
Requirements
35
Class
Slot
Magic
Tier
Type
10
Shield
Weapons
Main
Off
Damage
-
-
Accuracy
-
-
Style
-
Range
-
Attributes
Damage reduction
Armour
40
PvM:

1%

PvP:

0%

Life points
0
Style bonuses
Prayer
0

0

0

0

[FAQ] • [doc]
Body shield
-
40 XP
-
9,469
Requirements
Smithing level
33
Partially completed Elemental Workshop III
Members only
Yes
Materials
Item
Quantity
Price
Total
Body bar
1
N/A
-
Disassembly
Edit
Standard
Wizard
 Blue
 Black
Crystal
 Attuned crystal
Elemental
Polypore
 Grifolic
Spirit
Rewards
 Sacred clay
Ad blocker interference detected!
Wikia is a free-to-use site that makes money from advertising. We have a modified experience for viewers using ad blockers

Wikia is not accessible if you've made further modifications. Remove the custom ad blocker rule(s) and the page will load as expected.