Not to be confused with Evil Bob.
Bob

Release date
9 August 2004 (Update)
Race
Once human (Robert the Strong), now cat.
Members NPC?
No
Quest NPC?
A Tail of Two Cats
Ritual of the Mahjarrat
Location
Asgarnia, spawns at Burthorpe
Sells items?
No
Gender
Male
Examine
The Jagex cat.

Notable features
The enigmatic wandering cat legend; Neite's boyfriend

[view] • [talk]


Bob the Jagex Cat roams throughout Gielinor sometimes followed by his girlfriend Neite. He may be found anywhere in Asgarnia and the surrounding area, but spawns at Unferth's house in Burthorpe whenever the game is updated. One Bob exists on each server, and each moves independently.
Bob has one of the largest wander radius out of all NPCs/monsters in the entire game - he can go virtually anywhere that is not blocked by physical boundaries. However, it is possible to locate him using the Amulet of Catspeak after it is enchanted in A Tail of Two Cats which, when operated, will open a menu that looks like a cat's face. Keep clicking on the whiskers to make the dial rotate. When the eyes light up and a cat meowing sound is heard, Bob can be found in the direction that the dial is pointing. Do this until you can see Bob.
Though Bob can be found almost anywhere around Asgarnia, he mainly sticks to the Burthorpe and Taverley area.
Bob was previously able to travel much farther, to places like Varrock, Yanille and the Wilderness. But due to various updates, he is now confined to Asgarnia and a small part of Misthalin.
To talk to Bob you must be wielding a Catspeak amulet or Cramulet.
Bob's history is revealed in the Tail of Two Cats quest. In this quest, it is revealed that he once was the ancient warrior Robert the Strong. It is currently unknown how Robert the Strong turned into a cat. It is during the course of A Tail of Two Cats that we meet Bob's "girlfriend", Neite.
Bob the Cat? I have heard of that strange creature but have never been able to fathom him. It is no small achievement for you to be able to!

— Juna
A Tail of Two Cats
Edit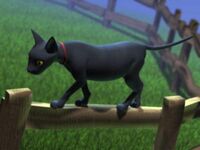 During the quest, A Tail of Two Cats, players go on a journey to discover Bob's true lineage in order to impress another cat. During the adventure it is found out that Bob is the reincarnation of an ancient warrior, Robert the Strong, who defeated a Dragonkin at their castle.
Ritual of the Mahjarrat
Edit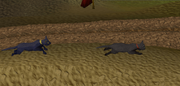 At one point in the quest, the player must get
Bob's collar
, which is used to both locate
Kethsi
and receive items left for the player by Robert the Strong. Among these are a
note
to Bob from Robert that seems to indicate Robert knew he would be reincarnated as a cat; and another
note
to you that seems to indicate you will some day meet Robert as a human. As of yet, these items have no use; possibly hinting at a future quest.

Miaoww
(
link
)
Talking to bob without an amulet of catspeak.