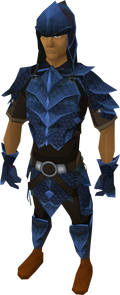 Blue dragonhide armour
refers to a class of
Ranged armour
available to all players. All of the pieces require 50
Defence
(the coif also requires 50
Ranged
to wear). All of the pieces (except the
coif
) can be made through the
Crafting
skill from
blue dragonleathers
. The body requires the completion of the quest
Dragon Slayer
to equip.
The Blue dragonhide coif is obtained from the Fist of Guthix minigame, and can be charged by Reggie. It does not degrade in combat since the Evolution of Combat, and will only lose charge if you ask Reggie to degrade it or if you retrieve it from your gravestone after death.
Because this armour set lacks boots, it is commonly used with turoth boots, which are the same level.
This armour will not interfere with Ava's alerter, Ava's accumulator or Ava's attractor.
Before the Evolution of Combat was released, this armour was available to members only. It is now the highest level ranged armour available to free players.