Blue dragon
Discuss

31
25,235pages
on this wiki
Blue dragon
Release date
27 February 2002 (Update)
Members?
Yes
Combat level
111
XP per kill
Unknown edit
Always drops
Blue dragonhide, Dragon bones
Examine text
A mother dragon.
Slayer info
Slayer level
1
Slayer XP
107.6
Assigned by
Chaeldar, Sumona, Kuradal

Combat info
LP
Max hit
1,100
Melee - 110
Dragonfire - 500+
Attack
Defence
Ranged
Magic
Unknown
Unknown
Unknown
Unknown
Immune to Poison?
Immune to Stun?
No
Unknown edit
Attack Speed

Speed 6 (Interval: 2.4 seconds)

Aggressive?
Poisonous?
Yes
No
Attack styles
Weaknesses
Melee
Dragonfire

Stab
Ranged

[view]
Blue dragons are the second weakest of the chromatic dragons, but are still fairly powerful monsters. An anti-dragon shield is essential when meleeing them, but this may be skipped if ranging or maging them from a safespot because they do not shoot long range fireballs. They are a very popular monster to kill because the blue dragonhide and dragon bones that they drop may be sold for 7,241 coins, together.
When fighting these with melee, an abyssal whip is a good choice for players with 75+ Attack and Strength, especially with a super strength and/or super attack potion. Players may use an antifire potion if they do not want to take any damage from their firebreath attacks, and if using this method instead of using an abyssal whip, they may choose to use a Leaf-bladed sword, Korasi's sword, Brackish blade, or a Chaotic rapier since dragons are weak to the stab attack style. A Zamorakian spear might be used as well, though super antifire potions will be needed to negate all dragonfire damage. If magic is your preference, a Polypore Staff is the best weapon for players who haven't done the Ritual of the Mahjarrat. If the latter has been completed, an Armadyl battlestaff paired with the Storm of Armadyl spell would be the best choice for high level mages.
If blue dragons are given as a Slayer task, a player may kill baby blue dragons as a substitute.
Locations
Blue dragons are popular monsters, for Slayers and players wishing to make some money.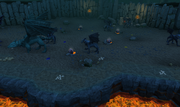 This area is an ideal spot for rangers and mages. There are three adult blue dragons here. Players of low to medium combat levels may face more potential dangers than those of higher levels. As baby blue dragons stop being aggressive after a player reaches 97 combat, level 97+ players should consider this a very good spot in an unpopulated world. You will need a dusty key in order to reach the blue dragons within the dungeon, unless you have an Agility level of at least 70 (or 65 with summer pies), in which case a shortcut by the entrance leads straight to where the dragons are. Fighting these while collecting the blue dragon scales can earn up to 400k coins per hour. This will only happen if you have 70 Agility.
The best way to get to the dungeon entrance is to use the Taverley lodestone and going south through Taverley. There is a bank nearby in Taverley just north of the dungeon entrance.
The blue dragons here are only available for players who have a Dungeoneering level of 60 and above. There are a total of eight blue dragons in this Resource Dungeon. There are two ways to get to the resource dungeon. The first is to go through Taverley Dungeon ensuring that you have a dusty key and enter the blue dragons' enclosure with the dusty key, then within the enclosure you will see the resource dungeon containing the blue dragons. The second, quicker route, is using the Agility shortcut (requiring a level of 70 to use, or 65 with a summer pie). There are also twelve respawn spots of blue dragon scale in the resource dungeon.
There are six dragons inside the ogre enclave under Gu'tanoth, south of Yanille. The quickest way to get to the enclave is to use Home Teleport and select Yanille, if you have it. Other ways are Watchtower Teleport, a house, or Yanille tablet. Alternatively players can use a ring of duelling to teleport to Castle Wars, or the fairy rings to reach any of the rings in the area.
The blue dragons here are only available for players who have completed or partially completed the Watchtower quest. This place has many safespots for ranging or maging, and with six dragons here. This spot is not too far from the Yanille or Castle Wars bank.
A safe-spot in the enclave is a pillar just east of the entrance. Players can stand just next to it, and range/mage the dragon that spawns to the north. This is useful for lower-levelled players, as the dragon is unable to attack.
This location has a single dragon, in a cage in the guild basement. Completion of the Heroes' Quest is required to access this dragon. The guild can be reached by using a lodestone teleport to Burthorpe and running south, or by using the combat bracelet to reach the Warriors' Guild and running east then south.
This dragon is contained inside a cage, making it ideal for mages or rangers to fight, although the cage must be entered to pick up the drops.
The blue dragons here may only be attacked if you are assigned blue dragons as your slayer task by Kuradal. There are safe spots for rangers and mages. Two safe spots exist; just inside the energy barrier just before the torches, and behind the stalagmites to the east. Players may bank relatively quickly using a bank teleport (such as the TokKul-Zo) and then returning to the dungeon using a Ferocious ring, a drop unique to the monsters in the dungeon. Alternatively, players may use the fairy ring in the ancient cavern and bank in Zanaris, providing that the player has repaired it. If players do not want to bank by Zanaris, teleporting to Lunar Isle (after completion of Lunar Diplomacy) or Edgeville will provide the fastest ways of banking. Players with at least 85+ Magic, an Arcane stream necklace, slayer helm and the Ferocious ring can hit up to 400s occasionally at times, and can be faster then players using melee without the use of a Chaotic rapier or longsword.
Strengths and weaknesses
Blue dragons, like most chromatic dragons, have moderate defence, but are weak against range and stab attacks. Their melee attack can hit up to 110 life points. As with all dragons, an anti-dragon shield or dragonfire shield is essential when fighting blue dragons as it reduces the maximum hit of their breath from about 500 LP to 50 LP (0 LP if used with an antifire potion). If a player wishes to kill them with a two-handed weapon, a regular anti-fire potion will slightly decrease the accuracy and damage of the dragonfire. A super antifire will block all damage from dragon breath while removing the need for a protective shield. For melee, it is best to use stabbing weapons, most effectively the Chaotic Rapier or Chaotic Longsword (one must keep in mind that these require large sums of coins to maintain), but others such as a Brackish blade, leaf-bladed sword, Korasi's Sword or, to a lesser extent, a Dragon longsword, will perform well when killing these dragons. However, for higher levelled players, an Abyssal whip or other high levelled weapon will work decently. A particularly under-appreciated weapon for players with low defence is the Staff of Light as not only does it have a decent stab bonus (exactly that of a dragon longsword) but it also has a special ability that reduces melee damage by half. When used in conjunction with an anti-dragon shield/antifire or both, damage is reduced by a greater amount.
Ranging from a safe spot is another popular way to kill them (Rune crossbow is recommended, since it may be used in conjunction with an anti-dragon shield). They can also be attacked safely with melee using a halberd since a regular chromatic dragon's dragonfire is not long ranged. Players with access to Super antifire potions can kill these very quickly with a Magic shortbow or a Crystal bow. The special attacks of the Dark Bow and the Zamorak bow are also advised, though small misclicks can make you get hit up to 250 from dragonfire. If the player has the required levels and has completed the Ritual of the Mahjarrat quest, dragonbane bolts are extremely effective.
If ranging or meleeing them isn't an option, then maging them is also quite profitable. When using chaos gauntlets with bolt spells, one can hit up to 10 less than the corresponding blast spell. A Polypore staff is also recommended for this.
Drops
100% drop
Charms
Weapons
Armour
Runes
Herbs
Others
See also
Chromatic dragons

Green dragon (brutal) (Daemonheim) (baby) • Blue dragon (baby) • Red dragon ( baby) (Daemonheim) • Black dragon (baby) (Daemonheim) • White dragon ( Celestial dragon)

Metal dragons

Bronze dragon • Iron dragon (Daemonheim) • Steel dragon • Mithril dragon

Other

Frost dragon (Daemonheim) • Skeletal Wyvern • Revenant dragon • Fairy Dragon

Notable dragons

King Black Dragon•Queen Black Dragon • Elvarg • Mr. Mordaut• Therragorn • K'klik • Tutorial dragon • Three-headed dragon

Dragonkin

Dragonkin (NPC) • Sakirth • Sithaph • Strisath • Kerapac • Taraket