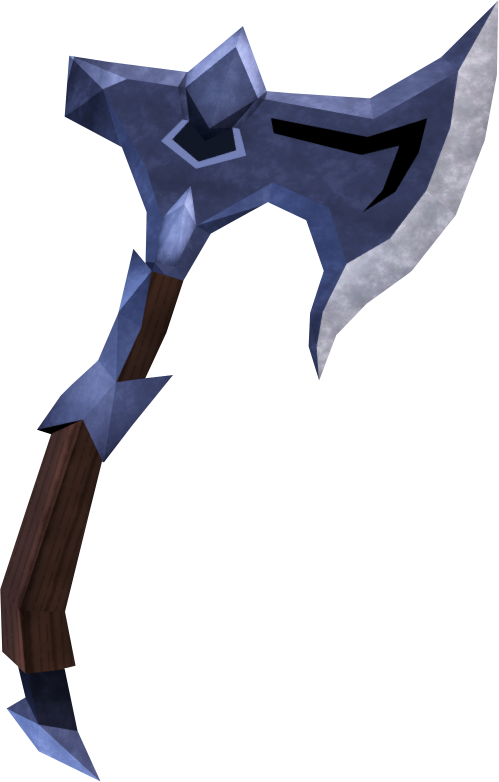 A blessed hatchet is a mithril hatchet with a silver blade. It is made during the Animal Magnetism quest in order to cut undead twigs from undead trees. It can also be used to damage Vampyre Juvinates.
Players who lose it can obtain another by giving a holy symbol and a mithril hatchet to Turael, or, after While Guthix Sleeps, his daughter Spria. It is also possible to regain it from Mazchna in Morytania.
You can only cut undead trees with it, not normal ones. This hatchet cannot be used to access the Brimhaven dungeon, or to cut tendrils in the Abyss.
Combat Stats
Requirements
20
Class
Slot
Melee
Tier
1
Weapons
Main
Off
Damage
9
-
Accuracy
110
-
Style
Slash
Range
1
Speed

Fast (3.0s)

Attributes
Damage reduction
Armour
0
PvM:

0%

PvP:

0%

Life points
0
Style bonuses
Prayer
0

0

0

0

[FAQ] • [doc]
Disassembly
Edit
Prior to the Evolution of Combat update, this weapon had the stats as a normal mithril hatchet.
Crafted
Silver weapons
 Blessed hatchet
 Rod of ivandis
 Ivandis flail
 Silverlight
 Darklight
 Blisterwood polearm
 Blisterwood stake-thrower crossbow
 Sunspear
 Sunspear (melee)
 Sunspear (ranged)
 Sunspear (magic)
Quest
 Blessed hatchet
 Demonic sigil
 Conductor
 Rod of ivandis
 Ivandis flail
 Silverlight
 Darklight
 Wolfbane
 Silvthril bar