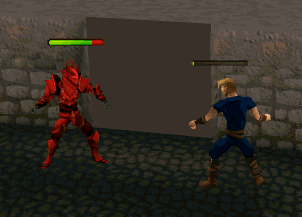 Blast spells are the third strongest elemental group of magic combat spells in the standard spellbook, and the strongest available to free players. Elemental staves can be used to cut the costs of these spells.
Fire Blast is the most damaging free-to-play spell, and it is often used in PvP activities.
All four Blast spells must be used in the Family Crest quest to defeat the demon, Chronozon.
Spell
Requirement
Runes
Base damage
Cost
 Air Blast
41
3
393 - 585

102

coins
 Water Blast
47
33
451 - 614

177

coins
 Earth Blast
53
33
508 - 662

162

coins
 Fire Blast
59
33
566 - 710

333

coins
Ad blocker interference detected!
Wikia is a free-to-use site that makes money from advertising. We have a modified experience for viewers using ad blockers

Wikia is not accessible if you've made further modifications. Remove the custom ad blocker rule(s) and the page will load as expected.