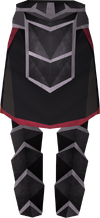 The black plateskirt has the same stats as Black platelegs, white platelegs and white plateskirts. The Black plateskirt requires 25 Defence to wear. One can be bought from Ranael's Super Skirt Store in Al-Kharid.
Combat Stats
Requirements
25
Class
Slot
Melee
Tier
Type
25
Tank armour
Weapons
Main
Off
Damage
-
-
Accuracy
-
-
Style
-
Range
-
Attributes
Damage reduction
Armour
83
PvM:

0.5%

PvP:

1.3125%

Life points
0
Style bonuses
Prayer
0

0

0

0

[FAQ] • [doc]
Store locations
Edit
This list was created dynamically. For help, see the FAQ.
To force an update of this list, click here.
Disassembly
Edit
The Black plateskirt (t) and (g) can both be obtained as a reward from Level 1 Treasure trails. Like all other Black equipment, they cannot be made through the Smithing skill.
Tank
Power
 Bandos
Barrows
Minigame
 Obsidian

Treasure Trail

Trimmed
 Black
 Adamant
 Rune
Gold trimmed
 Black
 Adamant
 Rune
Black heraldic
Adamant heraldic
Rune heraldic
Rune god
Dragon
 Ornamental
 Spiked
Other
 Gilded
Melee weapons
Ranged weapons
Tools
 Hatchet
Armour
Rewards
 Gloves
 Defender
Other
 Nails

Treasure Trail

Trimmed
Gold-trimmed
Heraldic armour
Other
 Cane