Black d'hide vambraces
Discuss

0
22,528pages
on this wiki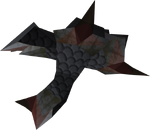 Black dragonhide vambraces are black dragonhide armour worn in the hand slot. Black dragonhide vambraces are available to member rangers and require 60 Defence to wear. Although black d'hide vambraces are much cheaper than the barrows gloves, the barrows gloves are used more often because of their better stats.
Kebbit claws can be used on these to make Black spiky vambraces which offer slightly better defensive bonuses. Level 32 Crafting is required in order to make any vambraces into spiked vambraces.
Combat Stats

| Class | Slot |
| --- | --- |
| Ranged | |

Weapons
Main
Off
Damage
-
-
Accuracy
-
-
Type
-
-
Attributes
Armour rating

56

Life bonus

+180

Prayer bonus

0

Critical bonuses

0%

0%

0%

Compare item

A player wielding black d'hide vambraces

[view] • [talk]
Black d'hide vambraces
Value
-
86 xp
1,296
2,413
2,592
-
Requirements
Crafting level
79
Members only?
Yes
Materials
Thread
1
Black dragon leather
1
Dropping monsters
Edit
Production costs
Edit
The data in this table is based on the current Grand Exchange prices. It is accurate assuming the items are bought off of the Grand Exchange and the completed Black d'hide vambraces are sold afterwards.
| Method | Material cost | Profit/loss | Profit/xp (Sacred clay needle) |
| --- | --- | --- | --- |
| Tanning Black dragonhide | 3,799 | -1,386 | -16.12 (-8.06) |
| Buying Black dragonleather | 4,178 | -1,765 | -20.52 (-10.26) |

Leather (spiky) •

Snakeskin •

Green d'hide (spiky)•

Blue d'hide (spiky) •

Red d'hide (spiky) •

Black d'hide (spiky)•

Blessed •

Third age •

Royal d'hide (spiky) •
Headgear

Leather cowl • Focus sight • Coif • Carapace • Snakeskin • Green d'hide • Archer helm • Ranger hat • Robin hood hat • Sacred clay coif • Spined helm • Blue d'hide • Red d'hide • Black d'hide • Blessed d'hide • Royal d'hide • Third-age • Karil's • Armadyl helmet • Morrigan's (corrupt) • Pernix cowl • Death lotus hood (sup)

Body

Leather • Hard leather • Studded(t)(g) • Frog-leather • Carapace • Snakeskin • Green d'hide(t)(g) • Spined • Sacred clay • Blue d'hide(t)(g) • Red d'hide • Black d'hide • Blessed d'hide • Royal d'hide • Third-age • Karil's • Armadyl • Morrigan's (corrupt) • Pernix • Death lotus chestplate (sup)

Legs

Leather • Studded(t)(g) • Frog-leather • Carapace • Snakeskin • Green d'hide(t)(g) • Spined • Sacred clay • Blue d'hide(t)(g) • Red d'hide • Black d'hide • Blessed d'hide • Royal d'hide • Third-age • Karil's • Armadyl • Morrigan's (corrupt) • Pernix • Death lotus chaps (sup)

Shields

Leather shield • Hard leather shield • Studded leather shield • Green d'hide shield • Blue d'hide shield • Red d'hide shield • Black d'hide shield • Dragonfire shield (ranged) • Armadyl buckler • Elysian shield • Eagle-eye shield

Vambraces

Leather gloves • Leather vambraces (spiky) • Hard leather • Studded leather • Carapace • Snakeskin • Green d'hide (spiky) • Spined • Blue d'hide (spiky) • Red d'hide (spiky) • Black d'hide (spiky) • Blessed • Third age • Royal d'hide (spiky) • Armadyl • Mercenary's • Swift • Pernix • Tracking gloves

Footwear

Leather • Hard leather • Studded leather • Frog-leather • Carapace • Snakeskin • Ranger boots • Spined boots • Armadyl boots •Pernix boots • Glaiven boots

Cape

Arrowstorm drape • Ava's attractor • Ava's accumulator • Ava's alerter • Max cape • Completionist cape

Neck

Amulet of accuracy • Amulet of power • Amulet of glory • Amulet of fury • Amulet of ranging • Saradomin's murmur