This article is about the giant version. For other crystal urchins, see
Crystal urchin
.
The Big urchin is a random event that can occur during Prifddinas Waterfall Fishing. Players have to pull a big urchin out of the water together. Players who manage to pull it out of the water are awarded with 30 small crystal urchins, 20 medium crystal urchins, and 10 large crystal urchins, which is equivalent to 100 crystal urchin points, and it also grants 300 experience in Fishing and Strength.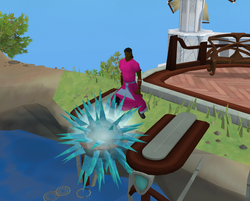 Ad blocker interference detected!
Wikia is a free-to-use site that makes money from advertising. We have a modified experience for viewers using ad blockers

Wikia is not accessible if you've made further modifications. Remove the custom ad blocker rule(s) and the page will load as expected.