Walkthrough
Edit
Start point

Speak to Rantz, in eastern Feldip Hills.
Member requirement
Members only
Official difficulty
Intermediate
Length
Medium (~20 minutes)
Requirements
Items required
Items from the tool belt are not listed unless they do not work or are not automatically added.

Feathers (100+ to be safe, 25 can be bought during quest for 50gp)
4-6 wolf bones (can be obtained during the quest)

Recommended
Enemies to defeat
Getting Started
Edit
Fletching Some Arrows
Edit
Bloated Toads
Edit
Ask Rantz all possible questions.
Enter the cave north of Rantz.
Attempt to unlock the chest in the north-west corner and search it to receive ogre bellows.
Exit the cave and run a short distance south-west to the swamp.
At the swamp, stand near the swamp bubbles and fill the ogre bellows. swamp toads should be nearby. Bloat it to catch it. Do this twice, so that you have 2 bloated toad in your inventory.
Talk to Rantz.
Drop a bloated toad where the arrow points.
Return to Rantz and talk to him.
After Rantz fires his bow, talk to him to receive an ogre bow.

Alternatively, you can kill the same chompy bird, if it has not left.

Place another toad in the clearing.
Kill the chompy bird that appears with the ogre bow.
Pluck the carcass and take the raw chompy.
Talk to Rantz.
Cooking the Bird
Edit
Go back into the cave and talk to Fycie and Bugs.
Obtain the ingredients that they ask (can be found on the ground near the place where you placed the toad and west from there) for and use the raw chompy on the spit-roast north of Rantz.
Talk to Rantz.
Quest complete!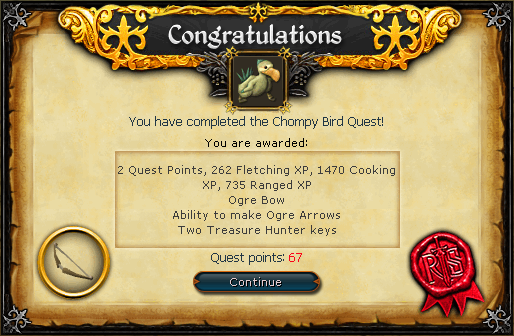 Music unlocked
Ad blocker interference detected!
Wikia is a free-to-use site that makes money from advertising. We have a modified experience for viewers using ad blockers

Wikia is not accessible if you've made further modifications. Remove the custom ad blocker rule(s) and the page will load as expected.